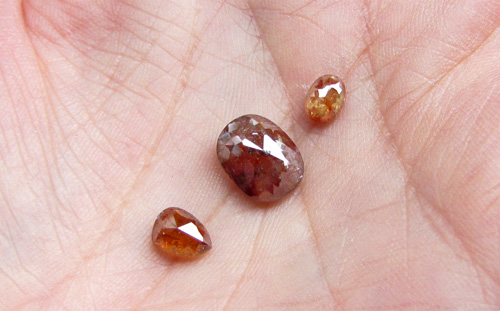 I have, over the years, accumulated a handful of stones that would love to find a home in some sort of custom awesomeness. The above trio are some sweet red and orange translucent rose-cut diamonds. (More details & photos of these below.)
I could not pass this flashy Ethiopian opal up when it called out to me from the sidelines of the Tucson gem show. I think it would work nicely in my snake cocktail ring, or perhaps you have another idea?
MORE more more after the click:
This is a supercool natural color slightly orangey red oval rose-cut diamond. I think this would be sweet in a nice high karat yellow gold. But then I think everything would look good in high karat yellow gold.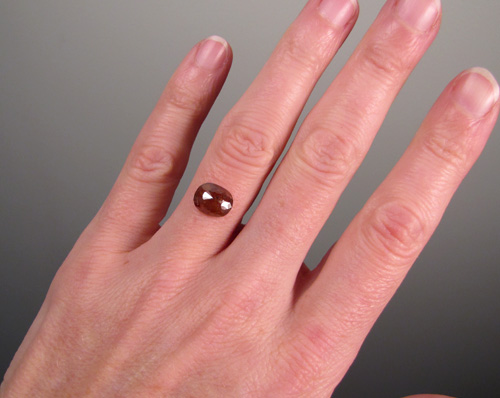 The red oval measures 7.84×9.81mm and weighs 2.77cts.
I tried to get photos of this stone under different light sources, as the colors change a little bit. Here is that big red oval alongside a pair of pears: one silvery white and the other a nice even yellow.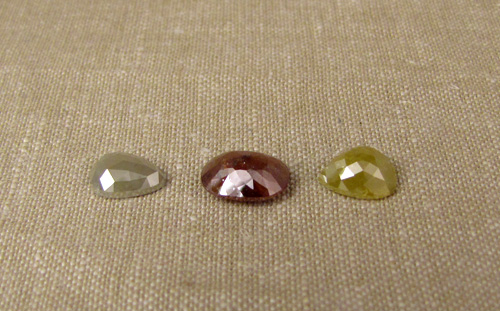 I love the nice high dome on that yellow pear.
The yellow diamond pear measures 7.94×8.88mm & 2.04cts.
The silvery diamond pear measures 6.83×8.76mm & 1.55cts.
Oh hello! Can you guess which diamond colors I tend to favor? I cannot pass up a nice peachy diamond.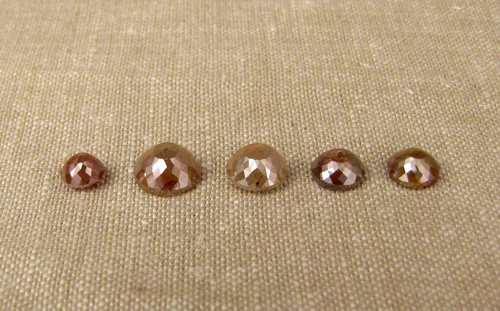 All natural colors, ranging in size from 5.05mm to 7.56mm, and .77cts to 1.93cts.
Sapphires! This one is 5.42mm and weighs .88cts.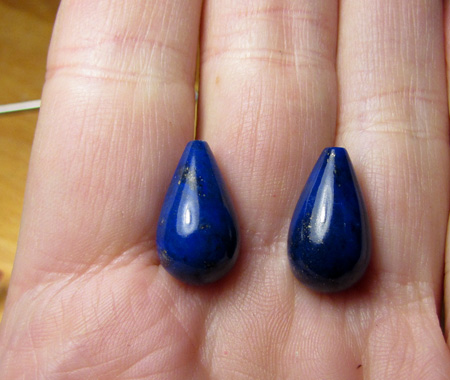 I haven't decided yet what I'm going to do with these lapis drops, but something is coming. I like the idea of pairing them with pearls. Maybe in a high karat yellow gold..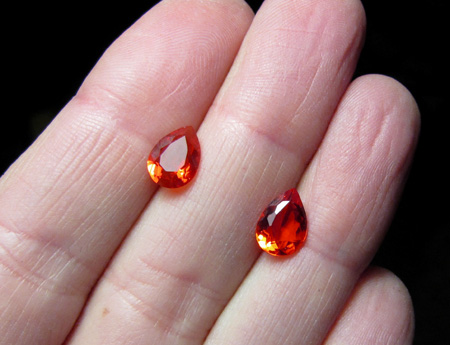 I've actually had these guys for a while. They are super clear fire opals from Mexico, measuring ~6.5mm by 9mm. I drew a design for these a long time ago when I was practicing my rendering, but didn't feel I had the skills to pull it off back then. I still like this design, however. I might just go for it.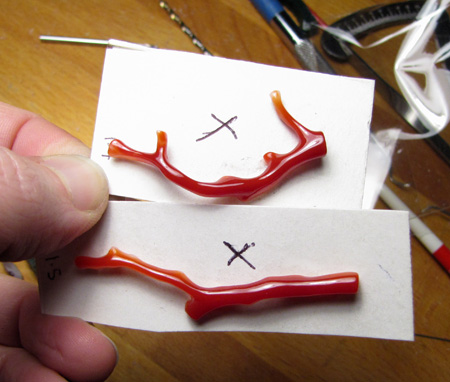 Look at these guys! Natural color oxblood coral from the Mediterranean. I have some ideas of what I'm going to do with these..
I have a hard time walking past awesome pearls. These are ginormous freshwater Chinese pearls and they have rainbowy iridescence & luster. Earrings, for sure.