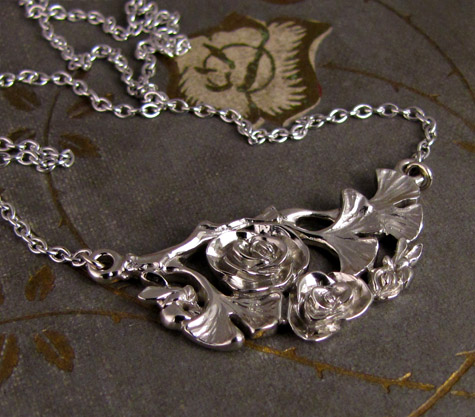 This was a custom pendant + earring set carved with roses, ginkgo leaves, and little bees here and there. 14K white gold. I am so sorry my photos were funky on this one; I think this is why it took me so long to post. These guys turned out so nicely; I wish I had a better shot of the honeybees. I thought I did a pretty good job on them, if I may be so bold 🙂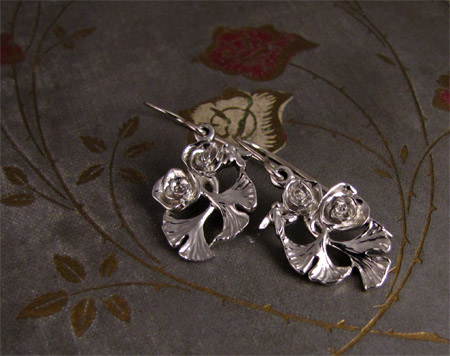 A few more photos after the click:
Man, I look grumpy in this picture!
Earrings. I have shied away from these in the past because of the somewhat hidden amount of work involved: you have to do everything twice! Having to do things over again has always made me a bit batty… And then I'm faced with the conundrum: charge what sounds more reasonable and not really feel like I'm covering the amount of time spent making them, or price them according to my normal 'formulas' and have the price seem high (for "just" a pair of earrings). For this particular pair, of course, I designed them so that I needed to carve two mirror image pieces for each of the dangles rather than a single piece molded & duplicated. It's way better this way, but of course more labor intensive.
And yet, as it turns out, every time I make a pair of earrings, they are so pleasing and I'm so happy with the results that I wonder why I don't make them more often. It's a confusing place, my brain.