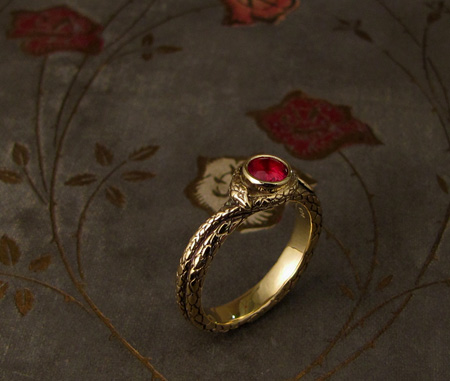 Well, it's about time I finished this ring. I started it nearly a year ago and had it cast easily 6 months ago. Then I stressed over what would be Thee Perfect Stone to set in the top. Against the intensity of the 18K yellow color and the epicness of the snake motif, I decided that I needed a ruby to go here.
Then I couldn't find one. Well, not one that I liked. I wanted a really red one that was actually clear inside, which is a hard bargain when it comes to rubies actually. The vast majority of them are a purplish red to downright pink in color, and it's rare to find any that are truly clear inside. The whole "pigeon's blood" ruby thing is, in my opinion, some seriously misguided romanticism. I mean, I've seen a dead pigeon before.
So I sat on it until I went to the Tucson gem show and spent two days on a quixotic search for the awesomest reddest rubies of specifically the right size for my ring. Out of the hundreds of gem vendors and tens of thousands of rubies there, I found three stones I liked and I bought all of them.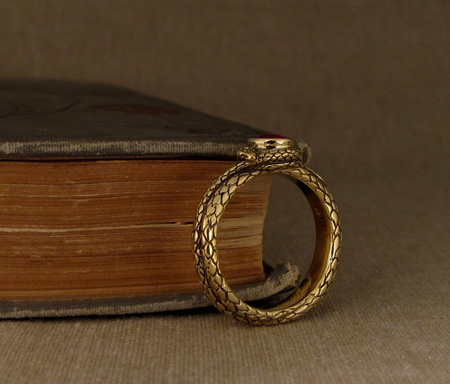 Many more photos of all angles after the jump! (more…)