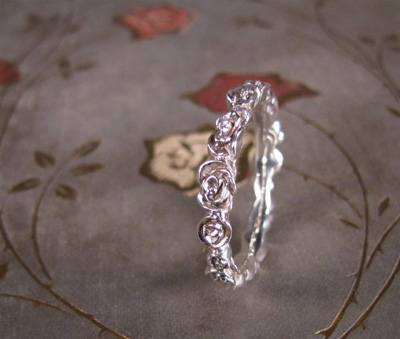 I've been on a rose carving kick lately. This is the most recent one I've done. It's my current favorite. My newest ring is always my favorite. This one I carved freehand (i.e., no sketch beforehand, no measuring, no plans, etc.), which worked just fine since it's not exactly a complicated design.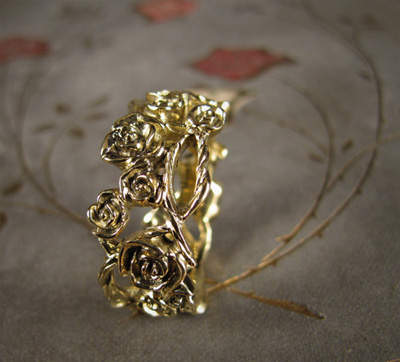 This is another recent one I did freehand—just started hacking away at a scrap of ring blank. I think I started on the actual wax a couple of years ago but never got farther than blocking out a size and width; I don't even remember what I intended to carve.
So dainty!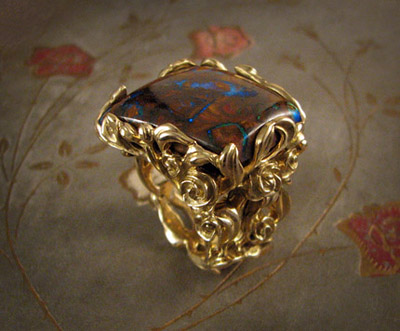 So not! This is a massive, honking, behemoth of a ring. It took me so long to carve that I felt like casting it into silver would have been ridiculous; $5 worth of silver in a ring that took me 20 hours to carve. Just how do you price stuff like that? So I had it cast into 18K gold (happily back when it was around $400/ounce). It's really over-the-top but I love it. A big snarly rosebush for your finger.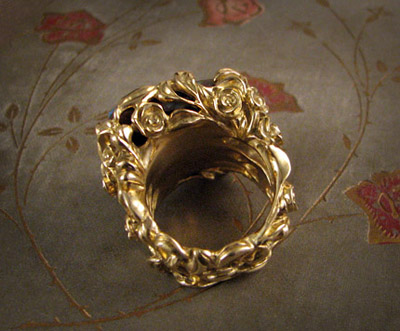 The stone in it is a boulder opal that I bought from a couple of dudes (brothers) who own and work their own mine in Queensland, Australia. While I was admiring his stones, one of the brothers entertained me with bawdy miner stories. He joked about how his brother (who was off getting lunch) was a total wuss when it came to snakes and spiders (seriously, who wouldn't be; the number of deadly poisonous beasties that creep and crawl across the continent of Australia is staggering) and every night, having passed out after drinking his weight in warm canned beer, the wuss brother would find himself desperately needing to get up in the night to pee. After lying in agony in his cot until he couldn't take it anymore, he would proceed to wake everyone in the tent with his swearing and flashlight flashing and banging of his boots against the ground manically attempting to dislodge any deadly scorpions or spiders. Then, lightning quick, he would dash outside to the nearest tuft of grass to relieve himself and fly back to his cot and be in his sleeping bag like his ass was on fire. The other brother laughed himself hoarse telling the story until finally the wuss brother returned to the booth with a couple of Indian tacos, eyebrows raised wondering what was so funny.
I'm thinking it would also be totally awesome to have little 3-5 point diamonds set around some of these bands. Maybe 5 or 6 stones bezel set. Course I need to learn how to set (faceted) stones…
Actually learning to set stones is totally my goal for the next few months. Except using the word 'goal' makes me feel like I'm on a job interview for an entry level position at some massive financial firm being asked by a doughy middle manager in an ill-fitting Structure suit, "What personal goals have you set for yourself?" or "Where do you see yourself in five years?" Those are the two lamest questions ever and I always hated them. Probably because my answers were always along the lines of: "Goals? I don't need no stinking goals," and "As a rule I do not plan more than a week in advance, but I can tell you now that I sure as shit don't see myself HERE." Sadly I never did answer honestly to those questions and I always got hired in the end.
Anyway. The point of my post? Not a team player. Also: likes roses.