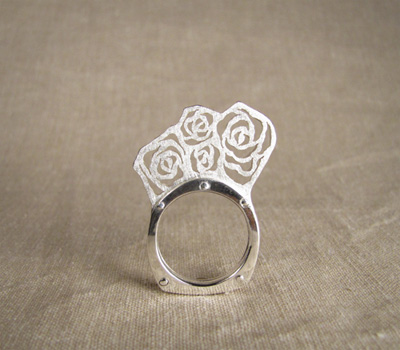 New ring in the shop! It's made from three plates of silver riveted together (no solder at all).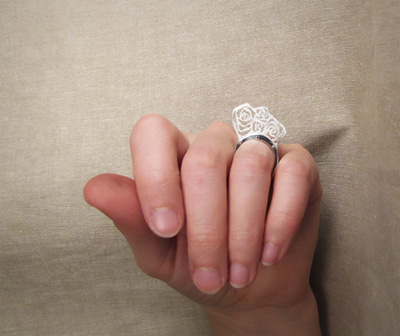 It looks awesome when the sun shines through it; it makes little rose shadows on your hand.
In other news, I'll be going to the Tucson Gem Show in a couple of days. It's the largest gem show in the country, in the world possibly? At any rate, it is massive; the entire town of Tucson is descended upon and taken over by gem, rock, and fossil types. There are venues set up all over town, some typical convention-hall places or large temporary tents set up for the occasion but others are in various motels. The string of motels along I-10 transform into a crazy marketplace; people vending out of their rooms. You wander the halls, going into any open door. Beds are shoved up against the walls and folding tables are set up with lights and glass cases for the stones. You can see into the bathroom nook where there are always personal effects like coffee cups, makeup bags, electric shavers, toothbrushes, rumpled washcloths or towels sitting out. I always feel awkward when I see such things because I remember that they have been living in this room for the past week. They actually sleep in the bed underneath the table.
The goods range from dusty rocks and fossils or mammoth tusks to fat glittering diamonds and sapphires and rubies. There are tables piled two feet high with hanks of pearls. Buckets (literally) of lower-quality cut sapphires, amethysts, garnets, citrines. Some venues are just in parking lots and others have security guards, only letting certified in-the-business folks inside. These venues actually have a dress code, a thing that totally freaks me out since I have very little in the way of non-denim and t-shirts.
One of my favorite stops is the Flamingo Hotel lounge downtown where the Native Americans show their work. This is not so much a rock venue but rather a finished jewelry and artwork show. You walk into the hotel lobby and the light is dim, there are smudge bundles burning, wooden flute broken up with an eagle call here and there is playing in the background, and a bunch of surly old dudes loaded down with serious turquoise jewelry stand over their work. A lot of the jewelry isn't really my style but some is truly awesome. It's always worth checking out.