[14K gold, sterling silver, diamond, and lapis rose-motif pendant.]
My sister in law's family is from Afghanistan, a part of the world renowned for its intense blue lapis. Her father gave her some pieces that he had carried over from the old country (there's more to the story than that, but maybe she can tell it sometime) and she had me make a few pieces. This is a pendant using a stunning tablet-shaped piece, about 17x23mm. The diamonds are recycled out of an old froofy pom-pom of a cocktail ring.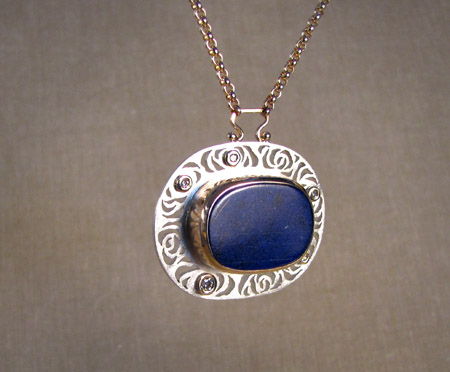 This piece was a challenge for me, not so much technically but mentally. I had never worked constructing gold before, nor had I done gold AND silver together. I have always been too nervous to construct using gold because of the waste; gold is just too expensive these days. But I got over myself and actually with this piece, I managed to be creative and had very little waste. Also it turns out that soldering gold is a dream come true, especially if you are accustomed to soldering silver.
Here was my design rendering.