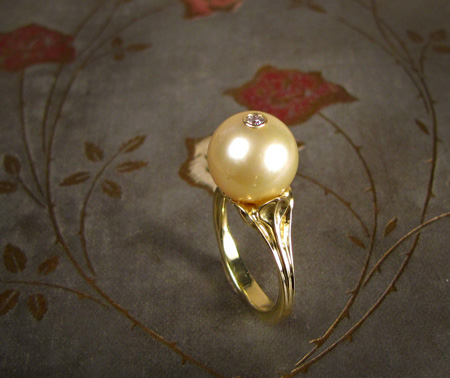 You have no idea how much I stressed over drilling out this big beautiful golden pearl.
Jacquelyn contacted me with this pearl conundrum: she had a pearl that came from a necklace (so it was drilled all the way through) but wanted it for a ring. So… could I maybe set a stone or do something not weird with the hole in the top? Being me, I'm all "We should put a diamond in that hole." So I got to work. I made the wax, adjusted it to size, got it cast, finished it out, set the diamond in the tubing, shaped and prepped the tubing to be set in the pearl, prepped the mounting for the pearl… and then I stopped and sweat for like a week.
I was terribly paranoid about chipping the surface of the pearl when I drilled it out for the diamond stud. I drill pearls all the time and I use special pearl drilling bits, but they are only small holes, like 1/2 millimeter in diameter. This was to be a 2.5mm diameter hole and as far as I know, they don't make special pearl drill bits this size. Regular twist drills don't work; they trash the nacre and chip it all to hell. I have tried. One could suggest that I had two chances to set the pearl: once on one side and if that didn't work, then I could set the failed end down and have a fresh chance. Naturally, that idea sucked because I just couldn't give back a pearl all wanged up even if the wanged-up part was set down into the ring and invisible. Also, the pearl had a couple of little dits on one end; this end needed to be set down in the ring mounting. So basically I had one chance. GAH!
I decided to treat the pearl like it was a normal setting job and used the tools I use to set diamonds. Bud burr, setting burrs, etc. The trick seemed to be that I had to drill the pearl at an extreme angle to keep it from chipping (I know this because I trashed two other practice pearls figuring it all out). Then once the nacre is opened up, you can drill straight down. It took a steady hand and a lot of patience but when I finally got my nerves together to do the real thing, it worked flawlessly.
I was never so happy to put that ring in the box and tie a little ribbon around it and send it off. Would I do it again? ABSOLUTELY! My god just look at how awesome it is: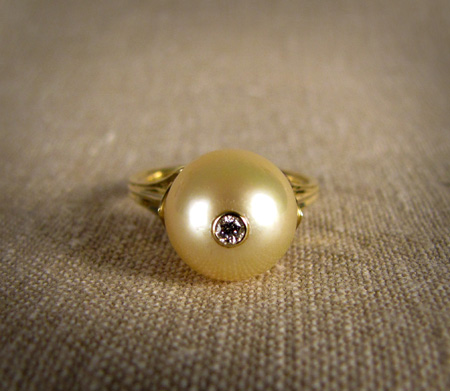 Like a jeweled gooseberry. With a big sparkley bead of dew on it. YUM.