I've followed fashion peripherally; mostly I just want to seem some pretty pictures and if I'm lucky, there's some neat jewelry too (but usually not). Lee Alexander McQueen killed himself this past February and here are some images from his last collection (which was shown after his death).
They are downright breathtaking. Like jewels.
The random but nicely symmetrical scattering of design is something I can fall to pieces over. This is what I love most about people like Renee Lalique (and there is a lot to love about the dude, my link is but one paltry example; do a google image search and be blown away).
All models had these austere head-dresses covering their hair and ears. This one has a feather mohawk (I have a complete picture of the mohawk down below) but most were just the head covering.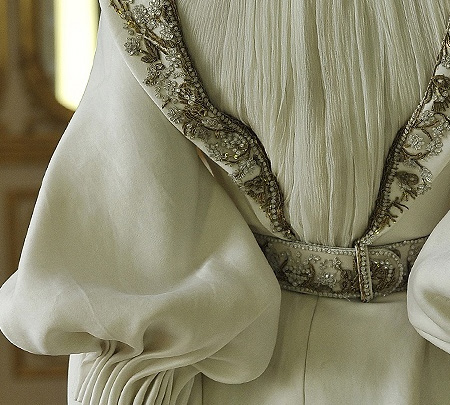 Pretty textures. I like the scrunchy rough texture of the gauzy translucent bunched fabric (I'm sure it has a name) and then the smooth silky weight of the outer layer (look at the veiny texture). I have an affinity for crazy contrasted with constricting. (No alliteration intended.)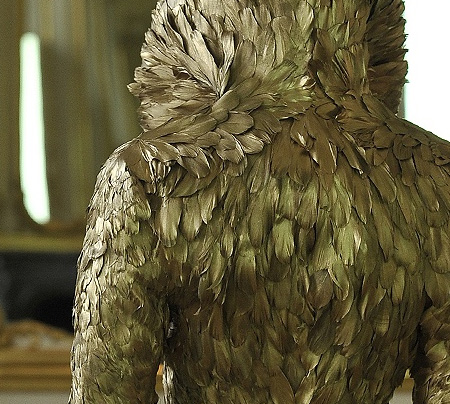 O. M. G. I Love This. Are they real feathers painted gold? I would love to think they were actually gold feathers. Or even real feathers sprayed with real gold paint… From a jewelry standpoint, they have a look like gold (14K or maybe 18K) patinaed with age. You so rarely see gold patinaed but I love the look and have been experimenting with it myself.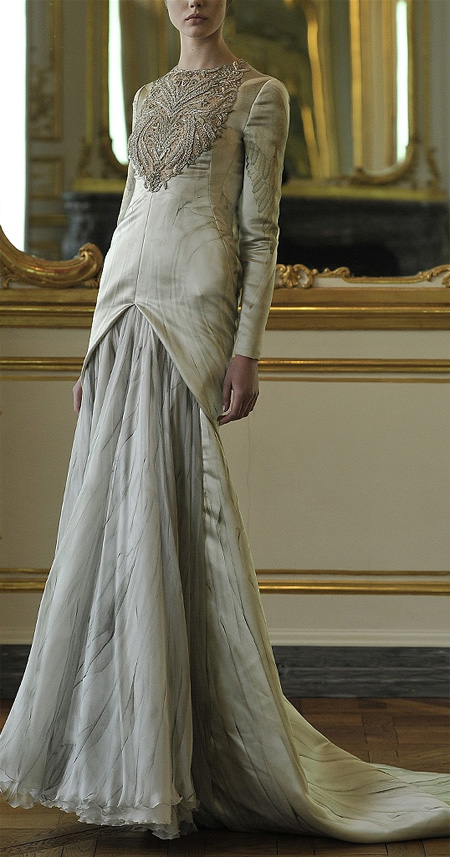 I'm freaking out over the print of skrinkled drapey fabric over perfectly smooth silhouette. Funny that it makes even real folds and shadows incorporated into the art. (You see the wings?) This is where I start to flail over which one is really my favorite…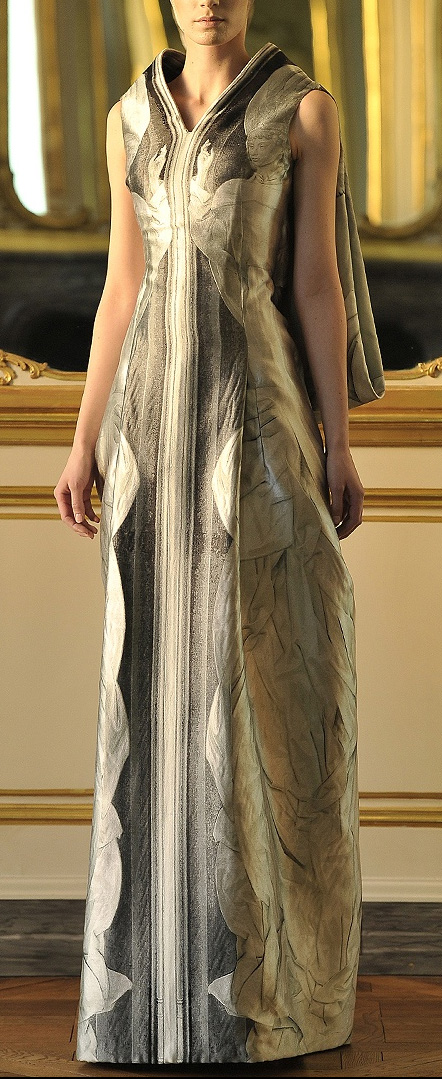 …because oooh oooh oooh oooh ooh! How cool is this?!?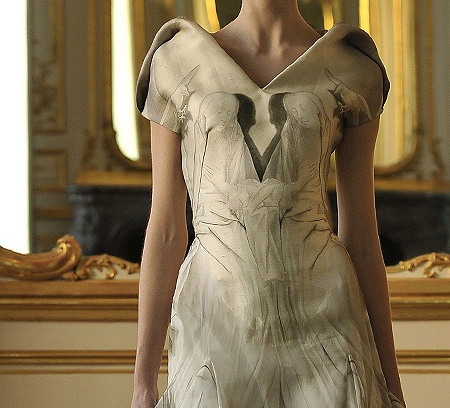 Holy cats! Or this?!? The dress goes on to be light and foamy and fluffery through the full-length skirt.
Heavy pomegranite silk. With intricate gold embroidery. I love this. Seriously, this would take me a zillion years to make (…if I knew how to sew and embroider and all that).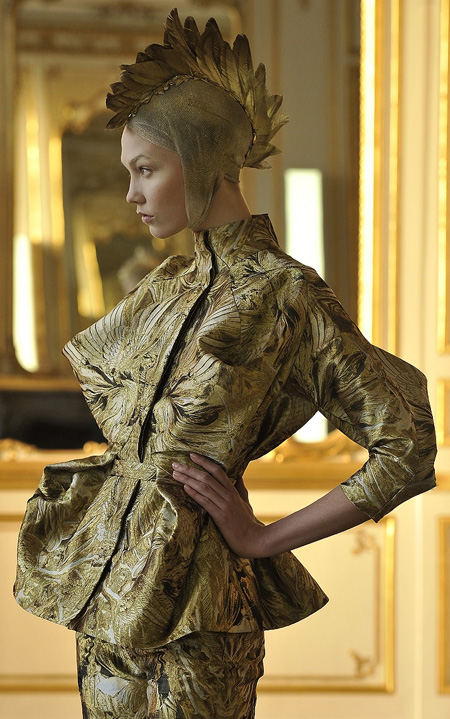 Here's that headdress I was talking about. A golden feather mohawk!
And right at the point where I get super excited about this artist—I do the same thing when I discover a great new-to-me author, and go to search out what other books have been written and enthuse over what is to come… And then I remember that the man who created this is now dead; there is no more coming. It's a sad, depressing thing, and makes you wonder what goes on in the minds of brilliant people. I don't often get choked up over people I didn't know personally who have died (there are very, very many, after all). But it happens.
All images and many more (plus greater detail) from here.