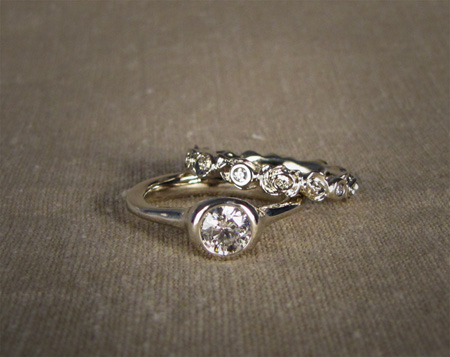 18K white gold solitaire with .60 ct diamond engagement ring with rosy diamond eternity band.
I've finally carved a solitaire ring to match my carved bands. It's very sleek and simple with a tapered band at the top and thicker, wider band at the bottom. This helps keep the ring balanced on the finger (keeps the stone UP and not flopping around) and I think gives a really simple design a lot of grace. It doesn't fit flush against the carved bands like you usually see engagement 'sets' but I think that's what makes it look unique and cool.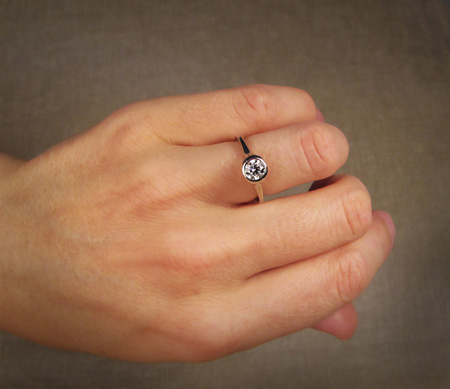 [The diamond is REALLY awesome. It's G color and SI1 clarity with ideal cut and polish/symmetry; the SI1 inclusion is singular and unobtrusive and 99.99% of the stone is perfectly clean. A really great diamond I think.]
I will probably carve a straight banded solitaire as well but I love the look of the tapered band the best.
Here's the pair of rings I often wear together: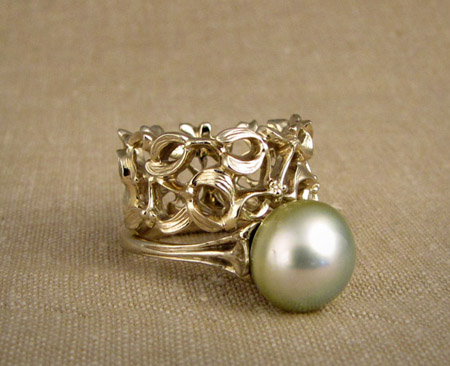 I began wearing it just because an 11mm wide band wasn't really giving the impact I was looking for… And then I realized how cool the tapered band looked paired against the carved ring.