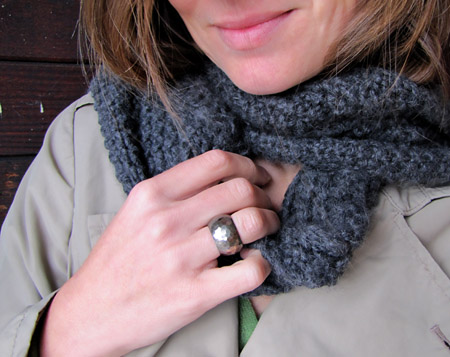 [Faceted Cigar Band, sterling silver, carved/cast, and oxidized a nice French gray.]
[Tapered Faceted Cigar Band, sterling silver.]
Hi there all! Sorry it's been a while since my last post.. I've been busy.. And lazy. And we got the fourth season DVD of Mad Men. Yep, that pretty much sums it all up right there.
But of course I've still been working and making some new things.. I'm going to list these rings on the Etsy shop here soon.. I will offer a straight version and a tapered version, and each will be hand-carved from scratch, custom to fit each order. Here is a photo of the rings I have been wearing together lately…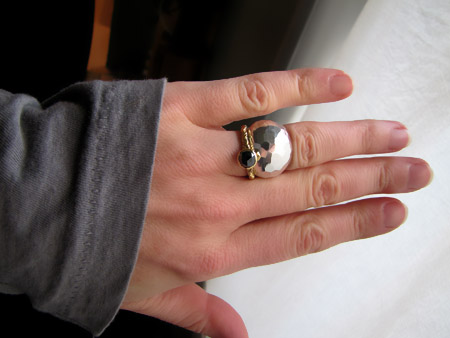 Yes, I only own one shirt. The gold ring is of course is the black rose-cut diamond in 18K (Victorian Solitaire) and the silver is a sterling silver carved faceted cigar band. It's domed and tapered and surprisingly comfortable. I think the two look really great together.
I know. Isn't that festive? It's not even December yet and we have a tree already. Until last year actually, we had never gotten a tree, or decorated in any way for Christmas (or any other holiday for that matter), but you know? My two-year-old LOVES the tree. She spends just about all her time underneath it (we even have it bolted down to a big heavy box so she has lots of space to hang out under it) re-arranging all the lower ornaments, wedging her stuffed animals in the branches. She's been busy. Originally we had no ornaments to speak of so I went crazy and made a bunch out of fabric and felt; so far this year, I've made three new ones.
Here's the typical scene: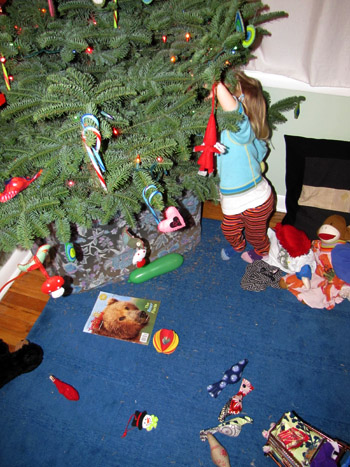 She is in the process of shoving all the bird ornaments deep into the heart of the tree where they will be lost forever if I don't remember to retrieve and count them all nightly before I go to bed. You can see various debris all over the floor: less tenacious ornaments and a host of stuffed friends waiting their turn.
(She has no idea that the plastic comes off those candy canes.)