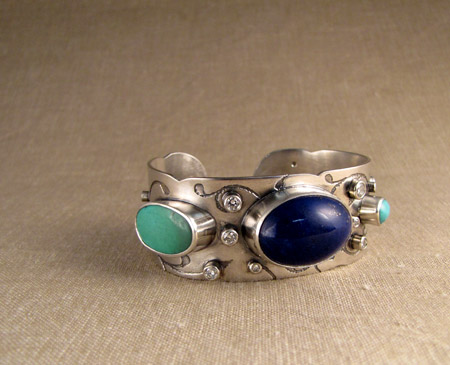 These stones started as a few rather, ahem, "dated" rings and pendants. The lapis was an individual stone that had been in the family for a long time. I picked all the stones out, recycled the metal, and we tossed around ideas for a bracelet, then a pendant, then a ring, then finally just decided "use up all those random stones and make one big SOMETHING!" So, here's my something: a cuff bracelet with etched and engraved floral motif set with lapis (from Afghanistan), Persian turquoise, and a smattering of diamonds ranging in size from 3.5mm diameter to 1.6mm.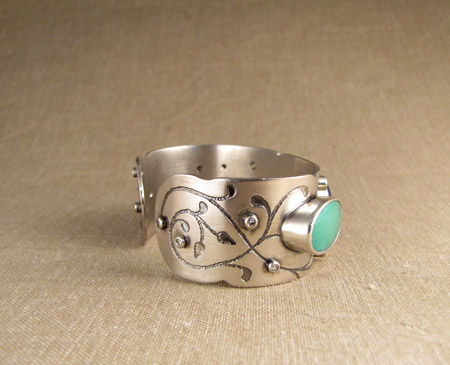 As usual, I stressed unduly over my design since it had been about a zillion years since I had etched anything (did I still even have the stuff?) and also my engraving skills revolve around guesswork since I've never been formally trained in any of this. I relied on the etching of course for the main design and then neatened it up where I needed to with the engraver. I should do more engraving—it's kind of fun!

Here's my sketched design. Originally, I had planned to make the bracelet straight-sided but during the process of soldering on the largest bezel (each bezel had to be carved on the bottom to fit the contour of the bracelet exactly so they could be soldered down), I got a little close to the edge with the pointy end of my torch and melted it all up. I totally freaked out, paced about a bit, took some deep breaths and surveyed my screw-up. I hammered it back as smooth as I could but couldn't really get the metal to smoosh back out to form a nice clean edge like before. But then it occurred to me that I kind of liked the way the edge swooped in; I added more swoops and I think it improved the overall look and design. I re-engraved the part of the design I had obliterated with my torch and hammering and in the end, it is all but invisible unless you know where to look. I felt very lucky and the rest of the bezels, including all diamond bezels, went on with no trouble at all.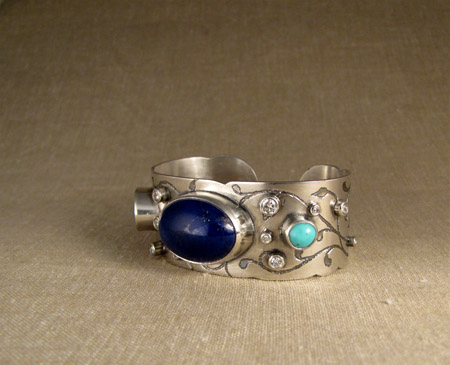 I put a deep french-gray patina in the design grooves and around the edges of bezels to give it more depth and polished the rest of the bracelet to a bright satin finish.