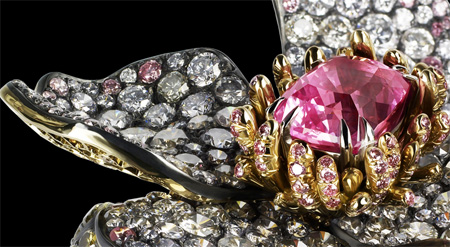 [Poppy ring by Faberge (modern). Multi-colored diamonds, padparadscha sapphire, blingy-bling, platinum, gold, etc.]
I left for my pavé setting class (at Revere Academy in San Francisco) with all sorts of grand ideas about what I would make the moment I got home. I even sketched designs on the flight over. Of course, after one day of class, it was sharply clear that I will need to practice for MANY hours before I will be even near confident enough to offer pavé set stones in my pieces. Pavé is hard! I can't believe it!
But it is also kind of fun. In a super-neurotic hyper-detail-oriented sort of way, which is my specialty. I acquired a bunch new tools, including lots of pokey sharp gravers, and one of those opti-visors so now I can look like a grouchy old man when I set my stones. It was a long time coming and I have to face the facts: my eyes are not spring chickens anymore. My husband has been telling me this for years.
[Another modern Faberge design. Doesn't it look like FUN to set all those little diamonds? I'm assuming this is a ring and that it was made by a hoard of nimble-fingered fairies.]
This was also my first real introduction to engraving using actual engraving tools (I had previously only done sort of half-assed engraving using scavenged tools modified for the job and, you know, it's just not the same). I was surprised to discover I really like engraving. Engraving = carving metal, essentially, and so I suppose it should not have come as a surprise. Unfortunately, it's WAY harder than carving wax so my engraved attempts were totally wonky and my lines wobbly and gougey and too deep/thick/everythingelse. But with some practice, I think I'll be able to add engraved design elements into my pieces. Hopefully engraved designs paved with wee sparkling diamonds. Yay!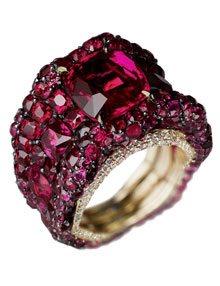 [Massive crazy ruby-encrusted ring (also modern Faberge). I'm generally not a huge ruby fan but, you know, I'd totally wear this.]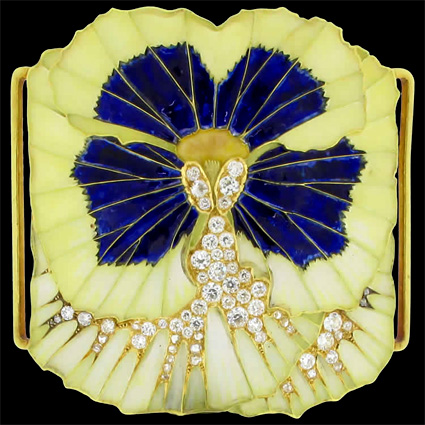 [Rene Lalique: top is the centerpiece for a pearl "dog collar" style choker with molded glass reed players and diamond folliage. The bottom is an enameled pansy choker centerpiece with pavé diamond accents.]
I can't even imagine how long it took to set all the stones in some of these pieces. I used to think this sort of thing was gaudy but I have since amended my blasphemous ways. I am especially fond pavé-set stones of varying color and size, and the way Lalique uses pavé in his designs is my absolute favorite. This is pretty much what I set out to do when I started making jewelry: make stuff as cool as Lalique.
And lastly, because this is after all Portland, OR (where we love everything cephalopod), I present to you the diamond encrusted octopus: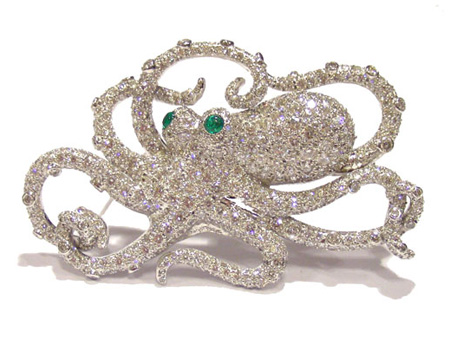 (Squids, shocking though it may seem, are grossly underrepresented in the diamond jewelry world. I hurt.)