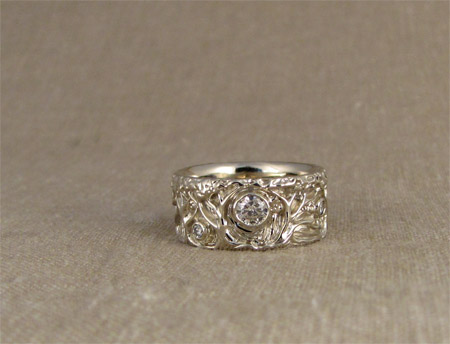 Hand-carved Forest of Trees band with eight (I believe) recycled diamonds (picked out of old jewelry the client sent me). I am damned happy with how this ring turned out. It was a long time in the making, with no fewer than fifty thousand emails back and forth with the client beginning in October of last year I think it was, extensive research into how not to be charged customs for stones and metal that she was sending me to use in the ring, extraction of stones and recycling of old gold, and then I began carving! Whew!
The design started out as "trees" and finalized to be Ancient Oak Forest on a Bright Night with Rising Full Moon and Early Evening Stars peeking through the branches.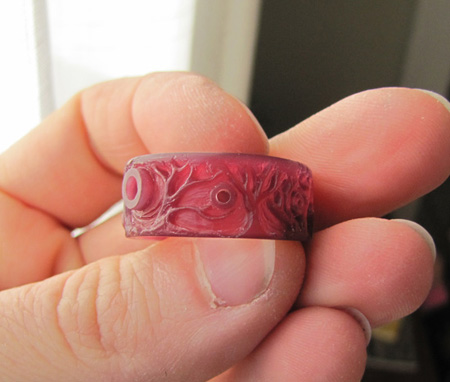 Here's a shot of the early wax. I sort of ran with the initial ancient oak theme and got a little overzealous with the trippy branches. "Healthy happy oaks!!" called the client. I fledged out the trees with leaves and this toned down the creepy Halloween vibe that was threatening.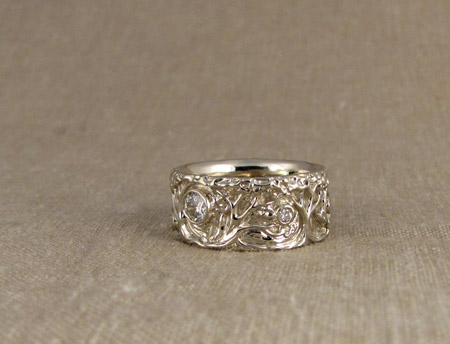 Moving around the ring. Main stone was about 4mm in diameter and the rest of the little guys were around 2mm. It is really hard to get good photos of bright shiny things that have a lot of texture and detail. I have to say though, no matter how nice something might look in the photos, it ALWAYS looks at least ten times better in person.
When I at last finished the ring and had it packaged and ready to ship, we were chagrined to find the Canadian post on strike; no mail was being delivered in the country unless by private courier. After a couple of weeks, things had been "settled" and the ring was shipped and delivered without incident (or customs charges! Hooray!).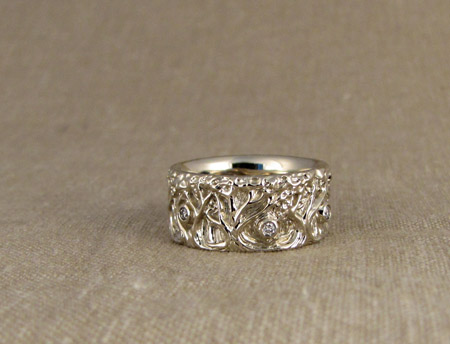 The choice of 18K white gold was I think perfect. It is not as white as platinum, palladium, or even 14K white; I do not rhodium plate my white gold. It has a very slight yellowish cast, which makes it look like metallic ivory to me. Warms it up a little and gives it a more antique-y feel. It worked nicely to represent a silvery moonlit night.