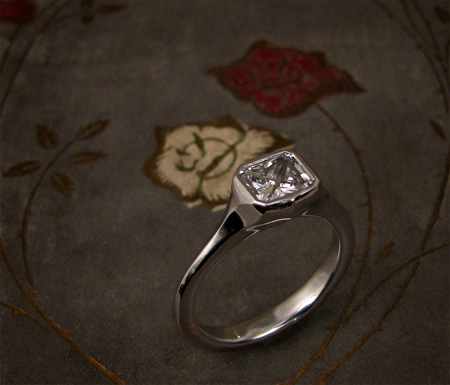 [Art Deco platinum solitaire with .87ct radiant-cut diamond]
About a decade ago I was given this diamond as a not-so-subtle hint by my (now) mother in law. I was excited to make a ring out of it, but after some trying, found the square shape to be rather difficult to design for. Over the years I have drawn several (failed) designs and carved probably five of them. I actually had one cast but then decided I didn't like it.
At long last, I scrapped my frilly and over-the-top designs and went for super simple. But I felt I couldn't make it smooth and rounded, so I carved edges into the band and bezel. It's pretty much perfect because I can wear it singly or stack it to my heart's content and change up my stackers whenever I want.
I finally got my ring finished just before Christmas. Just about 20 years after Joshua and I got together. Pretty pathetic for a jeweler, I'd say.
Here's what I find myself wearing the most: Platinum solitaire with 18K yellow gold Peacock ring & narrow leaf ring. I really like the color contrast between platinum & 18K yellow gold.
Sometimes I wear these! (18K yellow gold poppy eternity band.)
Click for more photos!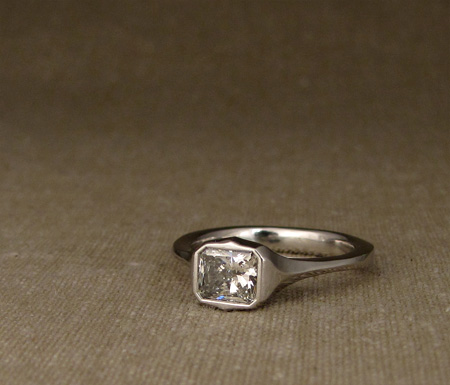 So this pointy-edged stone was making me sweat as far as setting goes. I'm used to round stones. In the end, I decided to take it to a more experienced pointy-edged stone setter and have him set it. He did a great job. Maybe I'll feel more comfortable taking on non-round stone jobs if I know I can outsource the non-round stone setting until I am more experienced.