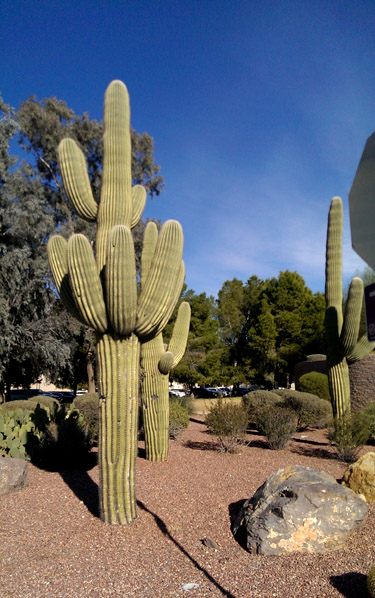 Establishing Tucson shot: it was a warm dry day in the desert metropolis. The policeman directing traffic between the AGTA and GJX shows laughed at me when he realized I was taking a photo of a cactus. I think saguaro cacti are just so damned cool though. The ones in the city are in downright pristine shape too, very photogenic; I guess the critters aren't as likely to choose the bustling city to build their homes, so the urban saguaro has few holes or gnawed-off portions. Probably gets watered more regularly too.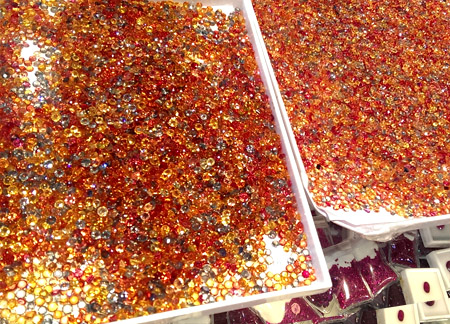 This is not the first large vat of multi-colored sapphires I ran across at the show. In previous years the vendors were kind of sketched by me taking photos of their merchandise, but now they are quite game. I guess they know it'll just end up on some instagram or blog somewhere. Speaking of which, I had no fewer than 10 people ask me what my instagram account address was. Guess I need to get on that.
Read more…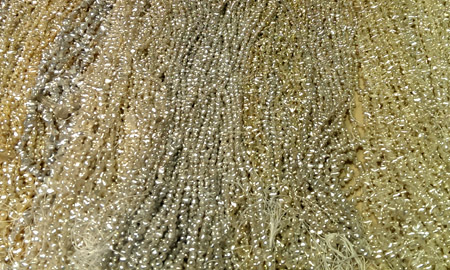 Tables laden with hanks of keshi! I wanted to roll in it. This is Japanese akoya keshi (little pearly bits that are found in nucleated oysters that aren't the cultured pearl part. More like natural non-nucleated pearls. They are often small, irregular in shape, and very bright as they are comprised almost entirely of nacre).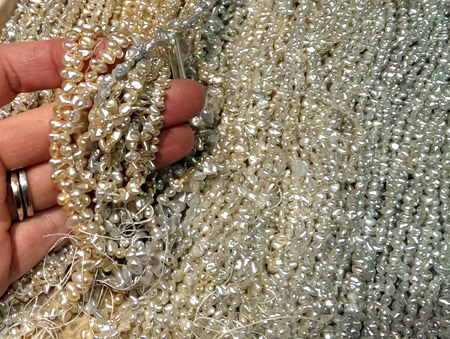 More keshi photos, because I couldn't decide which to post. So shiny!
I was extremely bold and proactive with my buying this year and got all my "work" buying down in the first day and a half. The last afternoon I was able to relax and take a stroll along Roadway and the Fossil Tents. So, the Tucson gem show is overwhelmingly gigantic, and has at least a dozen sizable venues scattered around town. There is a shuttle service that ferries you around to all the places across town. I generally only visit the shows at the Convention center location, but all the really fun stuff is along I-10 where there are several hotels lined up for maybe 1/4 mile across from the Convention Center. Vendors take over the place and turn hotel rooms into makeshift shops, pushing beds up against walls and setting up cases and tables for their goods, doors propped open with little signs sticking out. Things are piled outside along the hotel walkways, and the parking lots are filled with tents of everything from boxes of gem rough and rocks and geodes to rugs, carved buddhas, beads, stone bowls, and all manner of weird little trinkets. It's an eyeful.
Back on the Convention Center side of the freeway, about four blocks East, is one of the main fossil tents. Inside were several very large assembled dinosaur skeletons. This was a huge ~50% or even more complete (complete with actual bone fossils dug up out of the ground, I mean; the rest were cast bone models) Torvosaurus skeleton. Torvosaurus is a Late Jurasic apex predator from something like 150 million years ago; the dinosaur bone guy told me all about him. It is 40 feet long, and I believe it is for sale.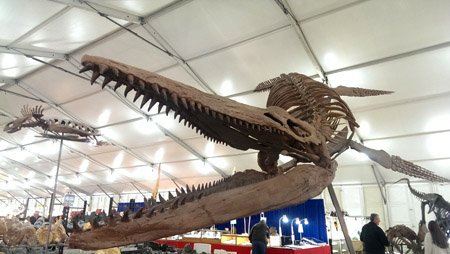 Here is a large swimming monster thing trying to eat a fleeing sea turtle. I was not alert enough to get a photo of the placard so I could remember what variety of sea monster he was.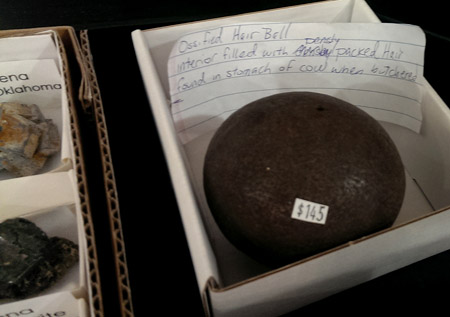 This, folks, is an ossified hair ball from a cow. If you peer in that little hole, you can see a matted wad of cowhair; the outside is a hard bony shell. I was greatly amused and talked to the bone guy about it for quite some time. He had a cool booth with several pair of very large fossilized mammoth tusks, some sort of stout old-school hippo creature, and a baby mammoth skeleton, named "Borealis." He also showed me phone photos of his kitchen, which had nice vaulted ceilings and was mostly taken up by a full-sized mammoth skeleton. I'm not jealous.