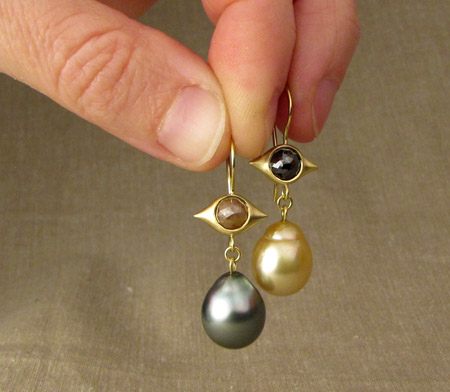 I don't make earrings very often, but pearl drops are so perfect for them, and I love pearl drops. Also I love translucent colored diamonds and 18K gold. So, I made these earrings, and I love them! They are one-off carved pieces with a 6mm+ 1.23ct black high-domed rose-cut diamond in one, a peachy-golden 1.38ct rose-cut in the other, also just over 6mm with a nice high dome. The black diamond has a baroque golden pearl drop, and the golden diamond has an awesome Tahitian black pearl. The ear wires secure in the back of the earring behind a hook for security. These are located downtown PDX at French Quarter.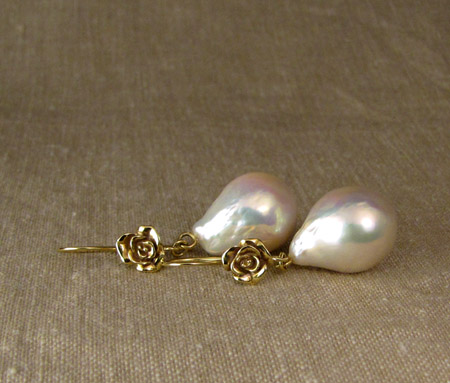 Once I broke the mind-barrier with the above earrings, I went to town with these ginormous white Chinese freshwater baroque drops. I carved two little roses (they are both just free-handed, so each a tiny bit different) for these in 18K. I have a photo further down of the backs of the earrings so you can see the ear wire hooks. These pearls measure approx 18mm in length by 13.6mm width.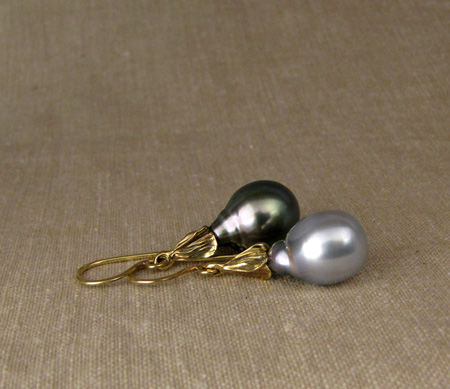 These little black & white pearl drops are dangled from little floral carved cups. Also 18K.
LOTS more photos after the click: (more…)