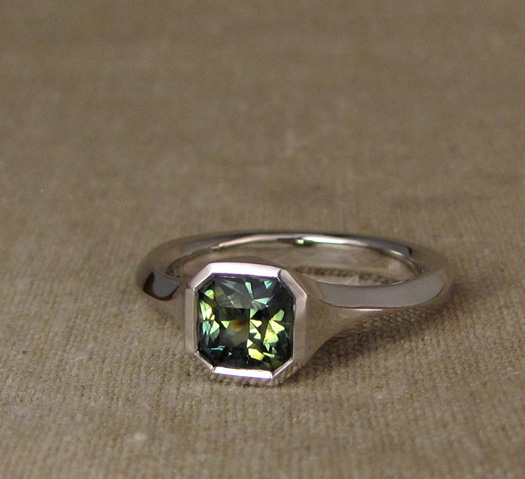 Just a little hand-carved geometric solitaire for this kick-ass parti-sapphire! Platinum, naturally.
I normally take photos in my light-box using filtered light (a strategic combination of white 'velum' drawing paper, white tissue paper, and recycled USPS tyvek envelopes over my lamps). Because my studio skates the cutting edge of tomorrow's tech.
The filters do a great job of lowering the reflections in the metal and help the camera capture the carving detail in my jewelry, but sometimes they make the stones look like crap. The hardest hit are opals (so sad!) and blue sapphires. I am not exactly sure why either–purple or pink sapphires tend to do quite well..
Below is a series of the same shot with full filter, half filter, and "no" filters (only the tyvek over the lamps themselves). It's interesting to see the difference. I honestly don't think the full-filter shot kills the stone entirely in this case, just makes it seem more sedate and brooding. But the less filter, the more lively it gets for sure.