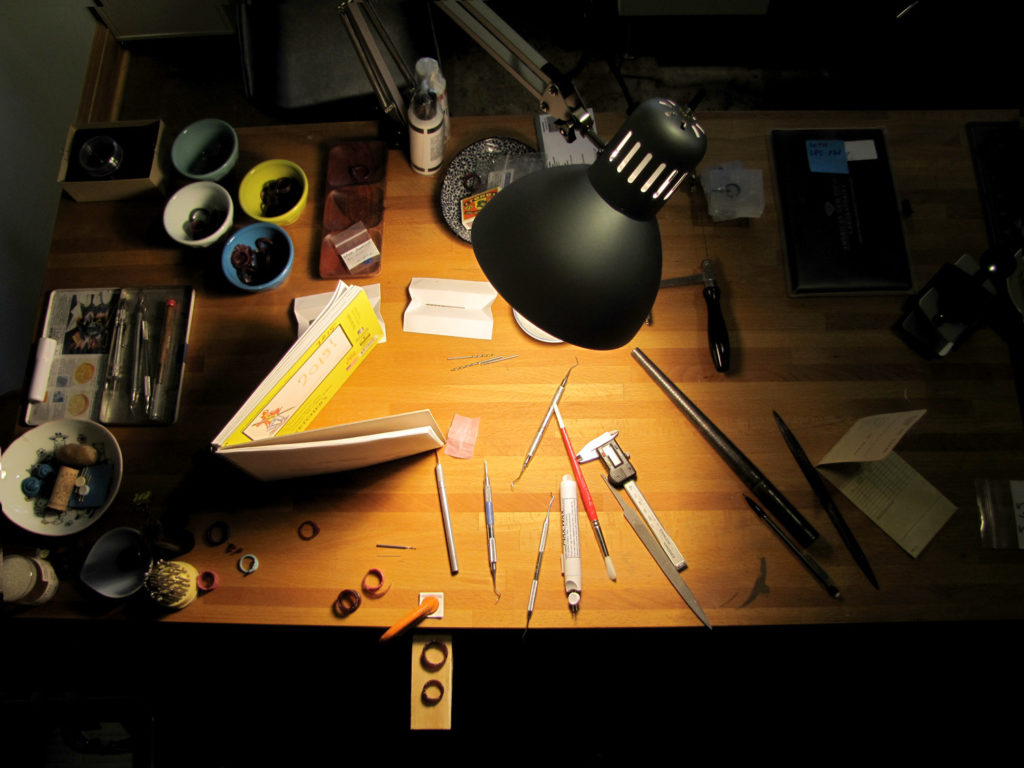 My name is Cheyenne Weil and I'm a full-time jeweler/designer out of Portland, Oregon. I specialize in custom-designed and hand-carved rings out of 100% recycled metals. My personal style tends to gravitate toward natural and botanical motifs, with hints at Art Nouveau and Art Deco. I did not study or train to make jewelry, however; rather, I got a really useful degree in History and Russian(!). It was a solid four years, but quite honestly, I probably should have majored in Art. (When's the last time you heard someone say that?) I *never* imagined that I would end up doing art for a living, yet here I am. It makes me happy just typing that!
I have been making jewelry, in some fashion, for over 20 years, and selling officially through Etsy and elsewhere since 2010. I'm the sole owner, designer, wax carver, metal manipulator, polisher, stone setter, photographer, blog-poster, email-answerer, packager, and podcast jockey at Studio Cheyenne. Mostly I work via online, but if you ever find yourself in the area, send me a note; I'd be happy to meet up somewhere and show you some pieces in person.
HOW TO CONTACT ME: Feel free to email me with any questions you have at cheyenneweil@gmail.com
SHOP: Visit my shop: Gin & Butterflies.
FEEDBACK: Browse through client reviews of my pieces here, and also from Etsy, here.
OTHER PLACES: You can follow me on Instagram @cheyenneweiljewelry, and you can "like" me on Facebook here.
GALLERY OF PIECES: Browse through a gallery of pieces with links to details (just click the image you are interested in and you'll link to more photos of it) here.
And finally, FREQUENTLY ASKED QUESTIONS!!