I found a place that can cast palladium and I'm terribly psyched. Here's what I made! I'm loving it and have been wearing it every day.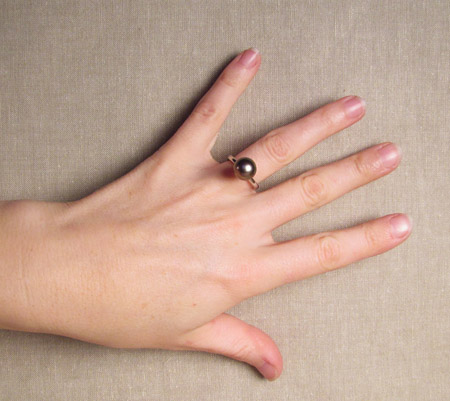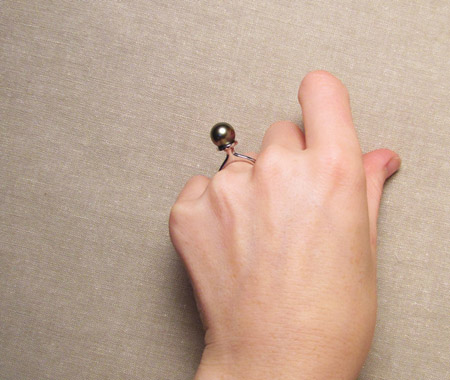 That awesome 10.5mm Tahitian pearl was sent to me by my good friend Antonia who sailed her sailboat with her husband across the Pacific, stopped at a small atoll where thar be pearls me mateys, and traded a bottle of scotch and some cash for a bunch of 'em. I was hugely jealous—and also hugely pregnant at the time—but her stories of the never-ending sea/morning-sickness she suffered while crossing the big bad ocean helped me to suck it up a little.
I about died when I opened the package and saw this lil' beauty! It took me long enough to make The Ring for it but here it is.
I just listed it in my Etsy shop (a custom version, that is, with a pearl of your choice—this one is mine)!
Palladium is in the same elemental family as platinum and looks very similar; maybe a tiny bit 'whiter' than platinum. It's much lighter in weight however, more similar to 14K gold perhaps. Happily, it wears more like platinum, with the curious trait of 'displacing' metal with wear rather than rubbing off, which is what gold and silver do. (I wonder if the tendency to displace metal as it wears is because the atomic bond between the palladium 950 alloy is so much stronger than the bonds in gold alloys?) It is very hard to finish, harder than 14K or 18K gold, and the casting plaster leaves a very rough texture, therefore requiring a lot of filing, sanding through the grit strengths, polishing with different grit wheels, then working my way through the buffing compounds… whew. I wish I had a buffing machine at times like these. But it takes an amazing polish, mirror finish really. I'm a glutton for punishment I guess because I'm definitely looking forward to making more pieces with the metal.