From this: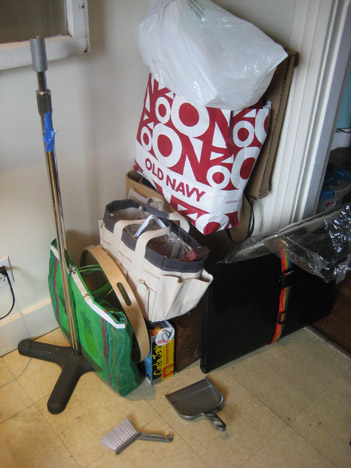 And this: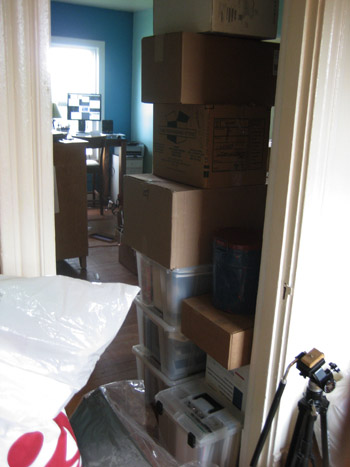 To THIS!!
The first five boxes always get packed flush with essentials in no time. The following three boxes are somewhat less organized. Things get plucked from here and there and packed together out of convenience so that there aren't any voids in the box. Then you survey the surroundings and there is still always like seven boxes' worth of crap stacked all around and you don't really need it but it's still Useful Stuff and you can't really just throw it out. I hate those last seven boxes.
The last time I had to pack up my studio, it was a bleeding nightmare. Not only did I have all seven boxes of utter crap I felt obligated to cart around to my Next Destination, it was all oblong, breakable, and awkward crap. I hate that awkward crap. Plus I had a humongous table (among other large items) to get rid of. Nobody was biting on Craigslist and in the end, I believe we cut it in quarters with a saws-all and balanced it precariously on top of the overloaded dumpster. Tragic really. When all was loaded and done, we came back to the house to discover that our car had been sideswiped (and totaled, it was later determined) by a drunk tow-truck driver (who later refused to 'fess up). Although it was annoying, we weren't really torn up over it. We were done with that car.
This time it went smoothly. I only had two boxes of crap and one I was able to pack back up again and hide away for the next move. If I'm lucky the closet fairies will steal it away and I won't have to ever deal with it ever again.
Behold! More gratuitous jewelry studio shots!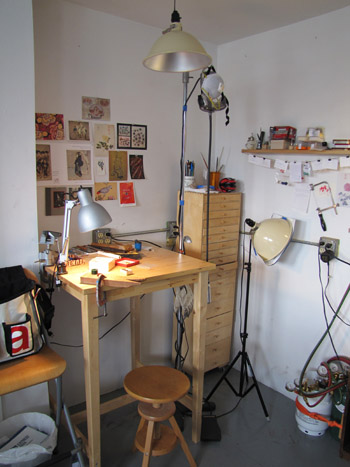 [Main work table, the "Tall Cosa" with tiny drawers of all my tools and bits..]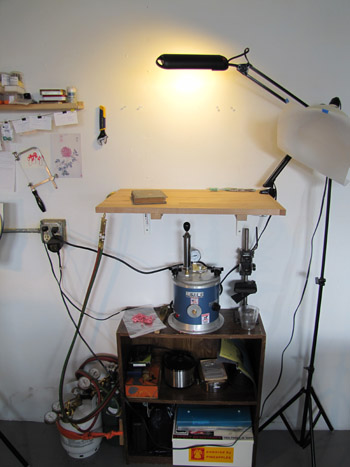 [The Soldering Shelf. This new space has about fifty berjillion outlets in it. Everywhere you turn. In fact none of my furniture fits against the walls because of all the outlets sticking out. I think I've done a fair job populating them with a wide variety of electrical devices. Before, I played musical chairs with the two outlets I had.]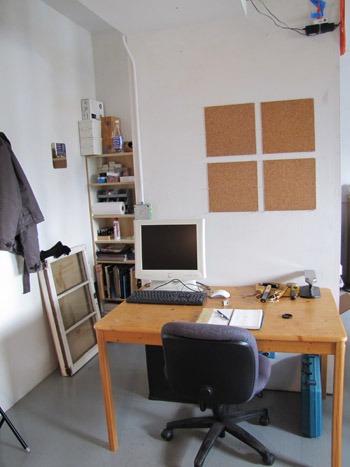 [The computer desk and project table. It's relatively neat and tidy now but in no time this will be taken over with all my miscellaneous bits and half-finished pieces.]
Anyway, I'm ready for action! I have a number of new pieces ready to post to the etsy shop. All very exciting!! (if, uh, you are into that sort of thing 🙂