I got a recent commission for a matching pair of wedding bands with perhaps a fish theme (the owners had a sweet story about a minnow). I did a couple of sketches of minnows wrapped around a band. Then it came up that the peacock feather was the design theme of their wedding. Maybe we could work that into the ring…
A fish and a feather. Ooh!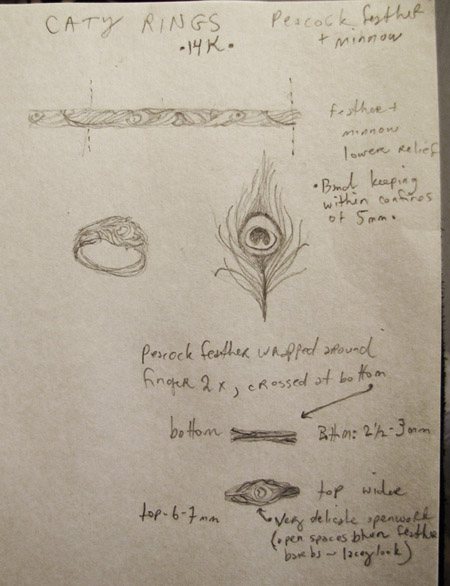 [I may not know how to spell "lacy" but I do know my feather anatomy!]
I really had a fun time carving these rings. A while back I sketched a design for a big ol' peacock ring (peacocktail ring?) but never got around to actually carving it. Maybe I'll dig it back out now because I love how the feather motif worked on the ring.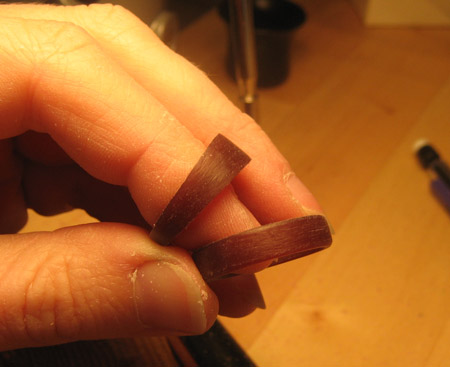 I start out evenly: cut waxes, cut out basic shape with file, scratch in design with something scratchy… Then I go to town. I try to keep continuity by carving on both rings, not getting ahead too far on one or the other, but inevitably at some point I lose myself and focus on one ring until I'm essentially finished.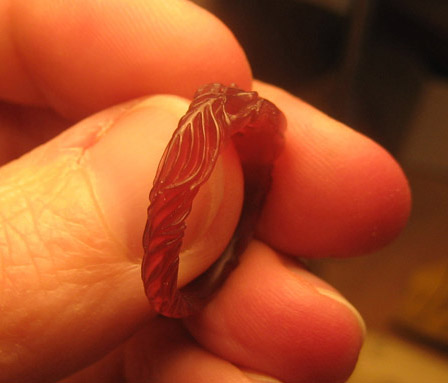 As usual, I carved the first ring (hers) and looked at my rough scratches on the second ring (his) and said to myself: "Oh bother; how can I make this one as good as the first?" This happens every time. And every time the same thing happens.
I carve the second ring… and I like it even better than the first.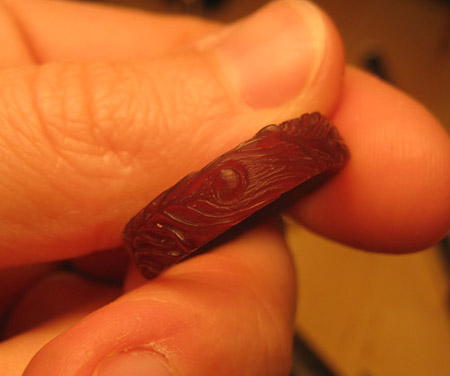 Then I feel bad for the first ring.
But after a short time my feelings equalize and I really find in the end that I don't know which one turned out "best."
Because they both turned out perfectly.