Oh my poor, poor neglected blog. Sorry folks for the dramatic pause in pretty pictures.. I have actually been very busy and have not had enough function left in my brain to keep my blog populated. I bought a "fixer" house, moved, had a nasty bout of colds/flues that rampaged through the household, tore apart and remodeled the bathroom, and now am working on the kitchen. And we had family visiting. And I got way behind in my orders doing all of this.. (But I'm caught up now!) Whew. Onward.
I have a number of custom pieces I have made over the past few months and I will get them posted here over the next week. For now, I just wanted to point out how amazingly cool Michelle Obama's jewelry was at the recent Correspondent's Dinner. I usually think her formal ensembles are pretty great and whatnot but this time her jewelry picks were completely AWESOME AWESOME and AWESOME!!!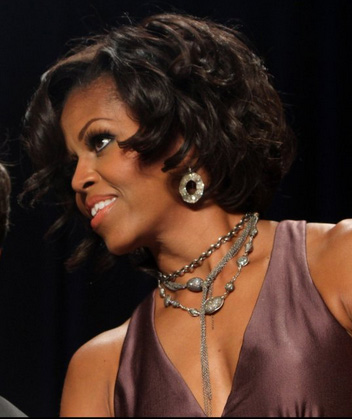 The three layered necklaces. The pewter color scheme here is really nice and unusual and goes well with the dusty purple color of her dress. All pieces are pretty sweet: the chain lariat choker that hangs over the lower necklace of interesting metal beads.. But what really makes this for me though is the heavy cable chain on top. Too cool.
Here's a close up of the bracelet stack. Snakes! I love it when people wear snake jewelry.
(I have no idea who designed any of this; if anyone does, please mention it in the comments for me? Thanks!)
The entire ensemble. Did I mention how awesome I think this is? Check out her snake ring too. The earrings are whatevs; I don't have anything to say about them.
Anyway, I was super impressed with her jewelry choices (her stylist's jewelry choices? Does she select her own clothing/jewelry for functions like these? I really have no idea how these things work) and I think she looked flipping gorgeous.
EDITED: I found out who the jewelry designer was: Irit Design for all pieces, including the earrings. Sterling silver and diamonds! LOVE it all!