Well, it's about time I finished this ring. I started it nearly a year ago and had it cast easily 6 months ago. Then I stressed over what would be Thee Perfect Stone to set in the top. Against the intensity of the 18K yellow color and the epicness of the snake motif, I decided that I needed a ruby to go here.
Then I couldn't find one. Well, not one that I liked. I wanted a really red one that was actually clear inside, which is a hard bargain when it comes to rubies actually. The vast majority of them are a purplish red to downright pink in color, and it's rare to find any that are truly clear inside. The whole "pigeon's blood" ruby thing is, in my opinion, some seriously misguided romanticism. I mean, I've seen a dead pigeon before.
So I sat on it until I went to the Tucson gem show and spent two days on a quixotic search for the awesomest reddest rubies of specifically the right size for my ring. Out of the hundreds of gem vendors and tens of thousands of rubies there, I found three stones I liked and I bought all of them.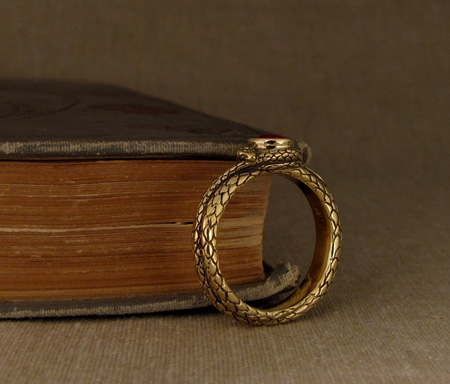 Many more photos of all angles after the jump!
The little tail! Deet!! Once I was in Costa Rica on a nature preserve and there was the most delicate of delicate little snakes carefully winding its way through the trees. It was about the width of a pencil and probably two feet long. It was delicate and beautiful and had a sweet, earnest little snakey face.
So the ruby in this ring is actually the purplest of the three I bought, however, it is the nicest quality and the best cut. It looks sort of a bright juicy orangey red in fluorescent light and kind of a raspberry red under full-spectrum light (rubies, along with most other corundum, are dichroic, which means they usually have two distinct bodycolors).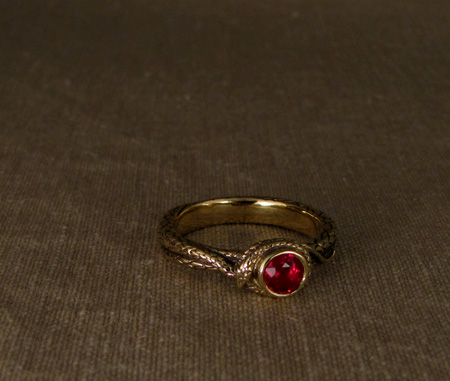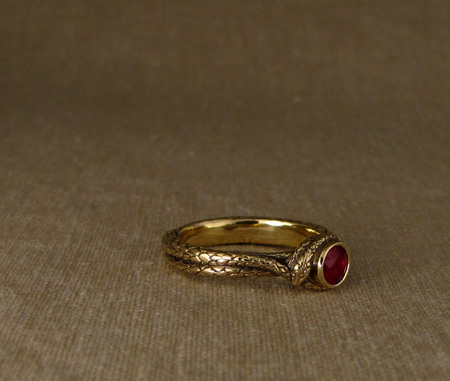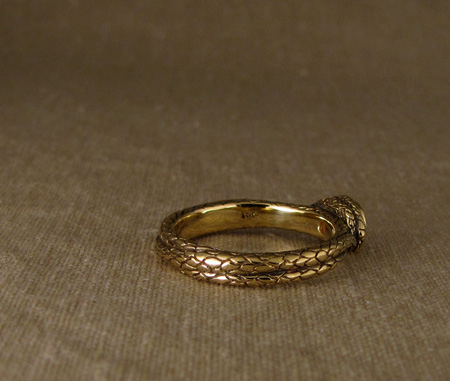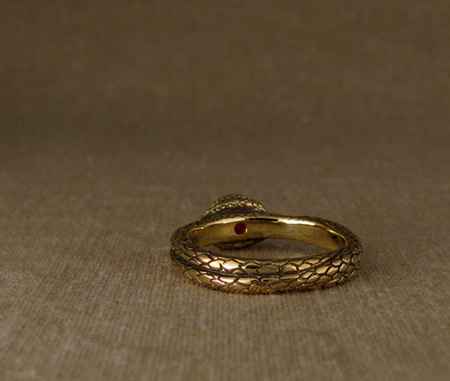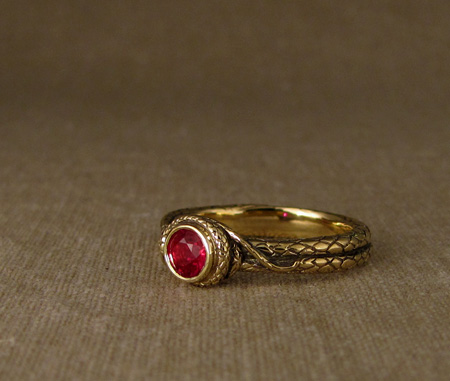 I'm going to be listing this ring in my Etsy shop as a limited production piece. I have two more rubies I can use, or if you prefer, a diamond may also be used for the center stone. Please send me an email if you have any questions!
ps – I have another snake ring in the works. Can I just say now that I love snake rings? I love snake rings. This new one is more of a wedding band (meant to wear as a stand-alone or accompanied by a solitaire of your choosing).