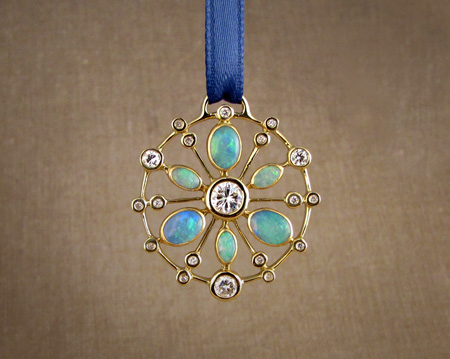 This project started as a big batch of broken and un-loved jewelry with a lot of decent stones in it. So, I pulled all stones and sent the metal into the refiner. Then I went about designing a new piece using up all the old stones. At first the idea was maybe a brooch..
More after the click…
But then it changed to maybe a pendant.. A butterfly maybe?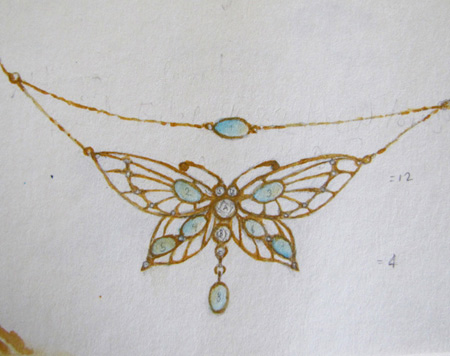 No, too much; the butterfly pendant was way too fancy. We needed more everyday wearable—like only 20 diamonds and a handful of opals can be..
Every-day wearable. And still cool. Check.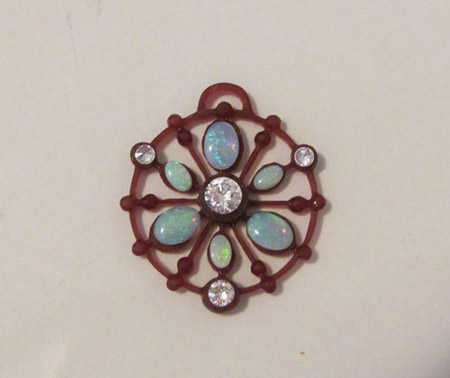 The wax of the piece. I proposed to carve the wax base for the diamonds and build/solder on the bezels for the opals. Because my last experiment with bezel-setting in gold using 14K was painful, I decided to go easy on myself and use 22K bezels. Opals are soft stones, and 22K is a dream.
The piece freshly cast into 18K gold (+ a little bit of polishing). There is a lot of gold here.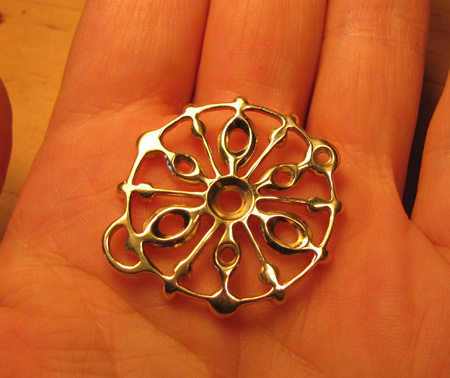 The bottom is cool.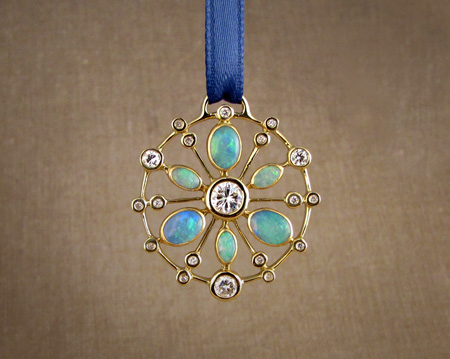 Et voila! The finished pendant.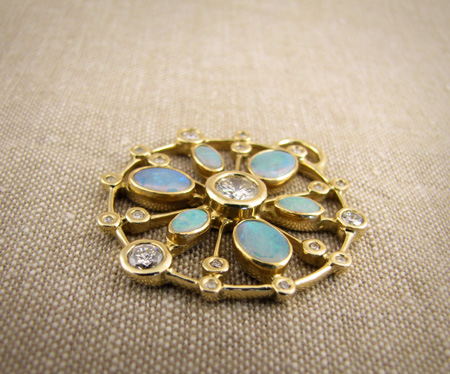 Soldering on all the tiny bezels was not super easy. I spent a lot of tedious hours making the bezels seamless on the piece and sanding/polishing between the little spokes, all the while listening to Dan Savage's podcast. Now I know a lot about people who have sexual fetishes for snorting things up their noses (like gummy bears).. or outie belly buttons. I like to think I'm a richer person because of this.
That middle diamond, for size reference, is 5mm in diameter. And all those little diamonds are 1 point freaking 3 mm in diameter (cough cough). (Mine eyes..)
The finished back. I like how the center stone pokes down so starkly and pointily on a back that is all soft curves and swoops.