This is definitely one of the more unique pieces I've made recently, combining unusual design motifs (two alligators holding a center stone in their mouths + lettering) with multiple stones. The client specifically was after a rough-hewn medieval look.
As it turns out, I'm not super good at rough-hewn (too much of a perfectionist) in that I can't bring myself to leave hammer marks in from stone setting, or make my carvings look primitive, or whatever it is I felt might make a piece look very old. What I could do was fake it a little by arranging more prominent carve marks here and there, and the choice of 18K royal yellow gold was perfect, especially with a little patina here and there to make details more prominent. I absolutely love how this ring finished out. My alligators turned out rad!
The diamond and the two belly rubies were old family stones with sentimental value, and we added a new third ruby to sit above the diamond.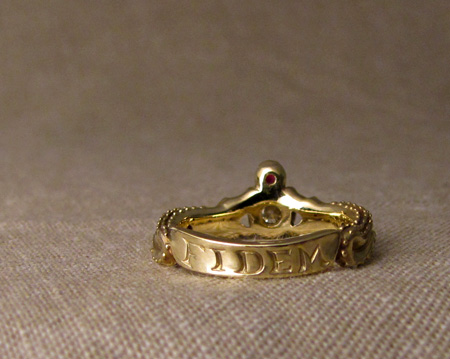 The back of the ring had the Latin "FIDEM" inscribed in.
Many more after the jump…