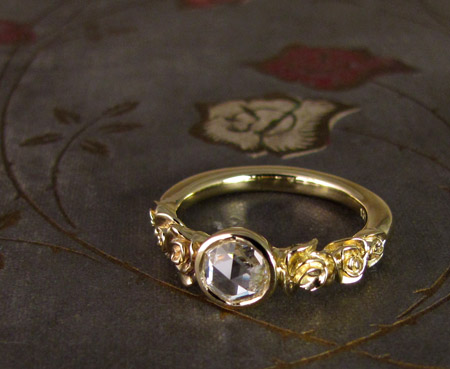 My Rosy Solitaire in 18K yellow gold with a ~6mm rose-cut diamond!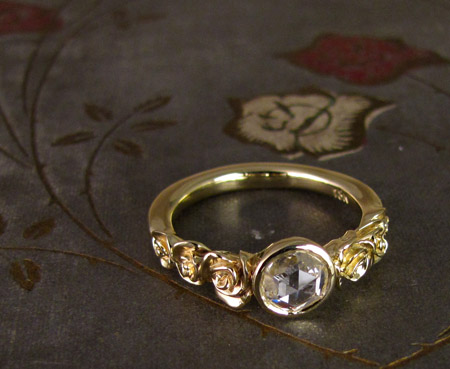 I was honestly a little apprehensive about using a transparent rose-cut stone as a center stone initially, and I was not shy about letting the client know why I was. The thing that freaked me out about this is that while the top portion of the stone is domed and faceted, the lower part is flat, and so you can see down through the stone. In a brilliant-cut diamond, the lower portion of the stone is faceted down into a point and you can't see through it at all. I was afraid it would just look dark and weird, like you would look straight down and just see a ghostly pink finger shadow in there.
But, the client (happily!) didn't listen to me and we went for it. I carved the bezel out as open as I could on the bottom, and raised it slightly so that it was a little off the finger and light could enter from the bottom. It turned out great, and I hopped onto the transparent rose-cut bandwagon.
Yes, you could see down through it if you looked at it dead-on, but it just wasn't weird like I thought it would be. It really looked great overall. And the top facets were blindingly glittery when they caught the light, which is the best part about rose-cuts.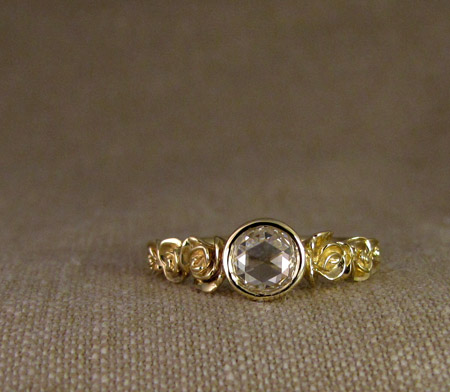 Note of curiosity: I changed out one of the lightbulbs in my photo lamp and it was a different spectrum than the other: one side of my ring looks more yellow, the other side looks a little orangey-yellow. The yellow-yellow side is more color accurate.