Chinese turquoise, diamond, sterling silver, and 18K gold. The silver has been patinaed a deep gray and then brushed bright silver on the outsides of the ring. The band is rounded on the inside and has an adorable little ginkgo leaf stamp that I had made a million years ago but haven't used too much. I need to use it more because it is pretty cool.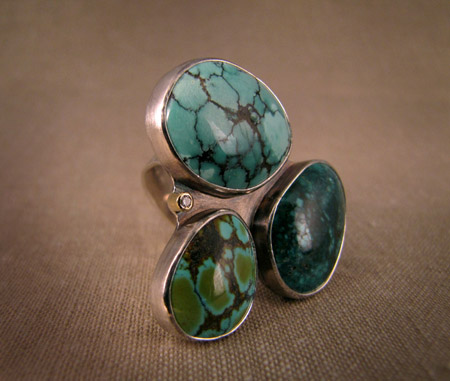 Finally, I've finished the ring using this awesome turquoise. I think it looks like a Japanese lily pond, maybe photographed using an infrared filter. Anyway, I just love this piece and hope I've done it justice with the ring mounting.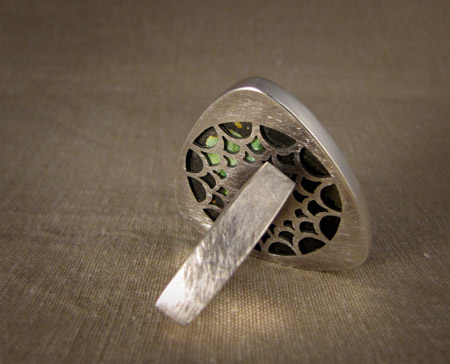 The bottom is pierced with a floral pattern so you catch a glimpse of the lilypads on the bottom of the stone and the whole thing floats off the three-cornered band by a couple of millimeters.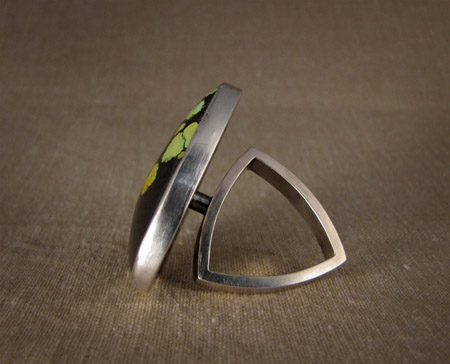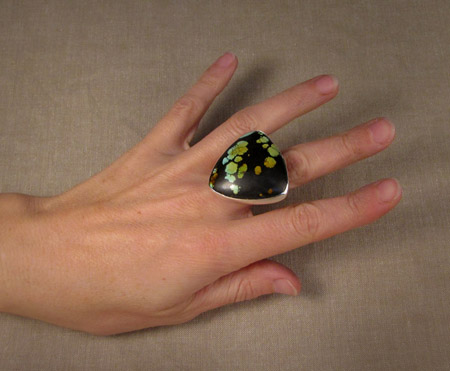 A thought regarding the ring shot being worn. So far, I have been just taking a photo of my hand against the same linen backdrop I use for the rest of the shots. I was taking outdoor photos of necklaces the other day and took a few worn ring shots while I was at it and am liking the results. Any thoughts? Do you think the ring being worn taken against the body vs. against a backdrop is better?
Here's what I mean:
Or the rose ring I finished recently..