One-of-a-kind boulder opal pendant! It is so incredibly hard to get a photo that really captures how cool opals are. This one has little streams and tributaries of opal running around all the way up to the top of the stone—red to orange to yellow to green, with wider turquoise and purple rivers towards the bottom. Boulder opals are my favorite. I like that they look like some sort of aerial photograph of, well, unicorn-land or something.
The stone up top is a little 2mm diamond, and pendant + 18″ chain are 14K gold.
Of course I couldn't bear to cover up the back of the stone, which also has little rainbow rivers and streams running through it, so I opened it up and carved a little detail here. I have this guy listed on Etsy.
Many more images after the click: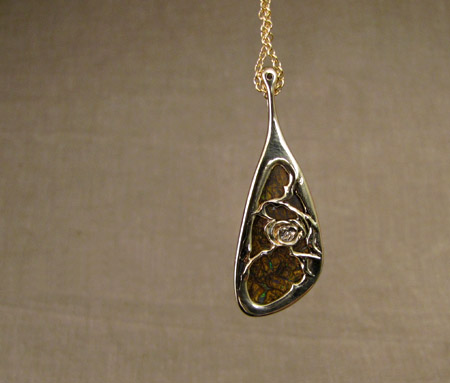 I need to get some new pics of the back; somehow I managed to put my fingerprints all over it!