Hi all! Just a quick note that I can still ship ready-to-wear pieces by Tuesday, Dec. 20th and have them arrive in time for Christmas. Pics above are pieces I have on hand and can ship immediately. Send me an email (cheyenneweil@gmail.com) for pricing, OR visit my Etsy page, as many of them are listed here with lots of photos.
I have a handful of studio sample pieces I've decided to sell (the rings above, mostly), which will be 20% off. I'll list them separately below after the click. All are ready-to-wear and can be shipped immediately.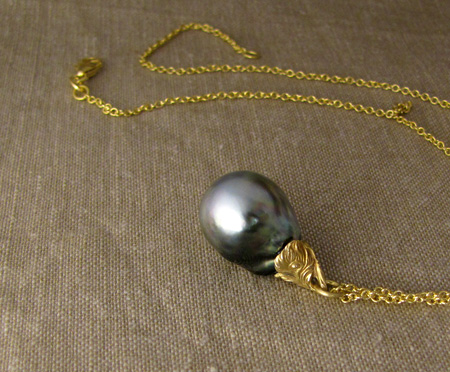 This is actually a new piece: a pearl drop pendant I *just* finished. This pearl is amazingly cool and colorful (which the photo does not do justice to at all…): a baroque Tahitian pearl with a one-of-a-kind hand-carved wee-petite peacock feather! 18K gold on a solid 18K, 18″ classic cable chain. Email for more pics & pricing: cheyenneweil@gmail.com
Okay. On to the sale pieces.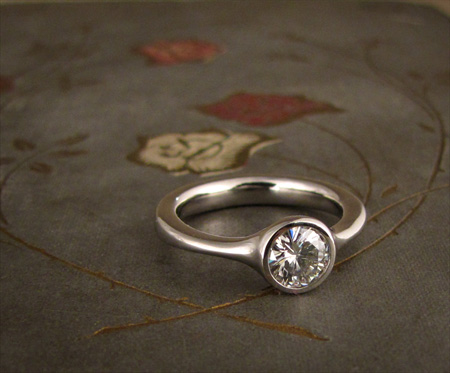 STUDIO SALE: My classic Low-Profile Solitaire in Palladium 950 with a 5.5mm Forever Brilliant Moissanite stone. This is size 4.25, but because the base of the band is not carved with detail, it may be sized a little up or down. $832 ready to ship immediately! (Regular non/sale price: $1040 including stone)
STUDIO SALE: The Peony Solitaire! This one is size 8.5 and in 14K yellow gold. Again, with the smooth bottom, this ring may be sized if need be. $836 ready to ship immediately! (Regularly $1045)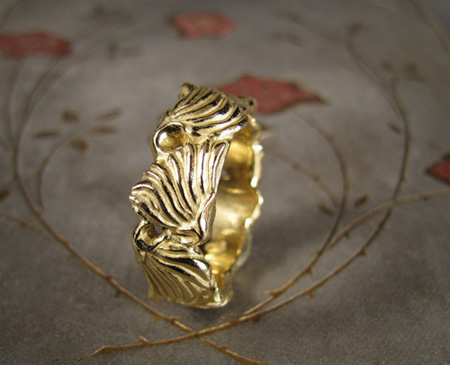 STUDIO SALE: The Daisy Chain Band! 7mm width, 2.25mm thickness. I can provide more photos, just send me an email. Fits a size 6 finger. $760 ready to ship immediately! ($950 was the original price)
STUDIO SALE: My Rosy Diamond Eternity Band! This one is in 14K white gold and has five 2mm F/G VS diamonds set around the band. Size 6. $876 (Regularly $1095)
STUDIO SALE: I have also two classic wedding bands.
One size 4.75, 14K yellow gold, 3mm wide x 2.25mm thick. Bright classic polish. $342
One size 10, 22K yellow gold, 7mm wide x 2mm thick. Brushed finish, lightly rustic shape (i.e., not perfectly smooth/regular overall shape). $880 Please send me a note and I'll get some photos for you!
Thanks!!
c