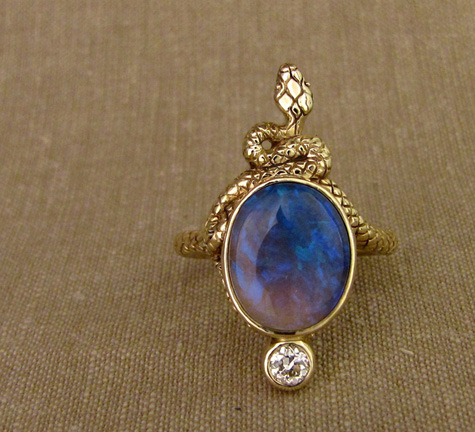 It has been really fun to see how this ring transforms with each new and totally different stone I make it with. I've been lucky enough to get to try it with the original boulder opal of course, this glossy and awesome smoky semi-black Lightning Ridge opal, an insanely gorgeous carnelian that looked like jelly candy, and a gorgeous white opal with a flash of turquoise running through it. I love the different vibes each stone lends this ring. I'm ready to make more!
This is the nicest carnelian I've ever seen; it is all natural color and actually the original stone was larger and I had it cut down to fit this setting. The diamonds in this and the smoky black opal above are both antique Old European Cut diamonds.
Pairing a bright green-blue paraiba tourmaline with this opal was a brilliant idea. It looked so good against the yellow gold and really brought the blue and green flashes out of the opal.
More pics after the click!
Opals are really dynamic stones and it's so hard to get a photo that captures all the action going on in there.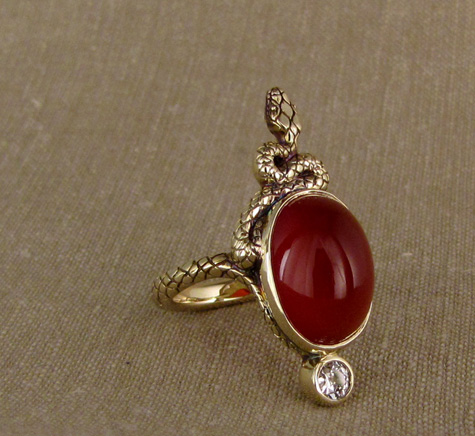 This opal was really difficult to photograph; every which way you turned it brought out flashes of different colors, but my camera managed to miss all the really good angles somehow…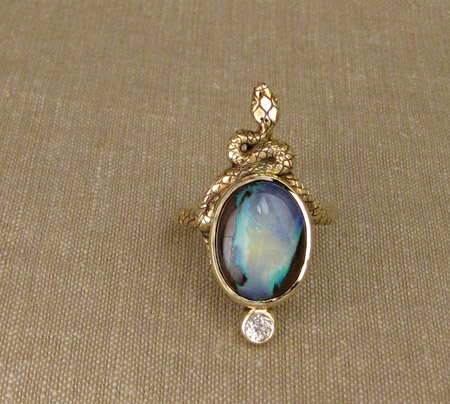 And the original with a boulder opal I bought a few years back but hadn't figured out quite what to do with it until I made this ring. The diamond again is an antique Old European Cut.
Styled with the usual studio hoodie. This hoodie actually is on its last legs. The cuff is now held on with safety pins and it's just a pathetic piece of material overall. However, the pockets happen to be a perfect size to fit my phone without it dropping out when I bend over. Thus, it persists as preferred studio wear.