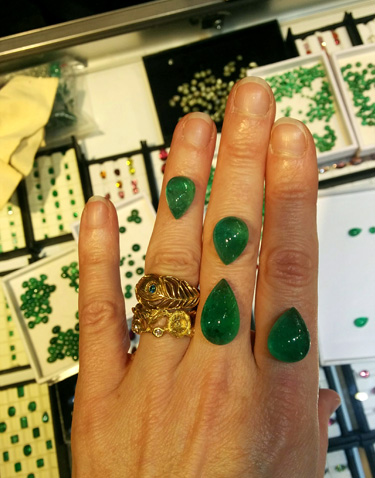 Another year's gem show is in the bag. I managed to break out of my usual AGTA/GJX "rut" and see some new venues. I spent close to three solid days on my feet from open to close, running on manic fumes the entire time, dismissing lunch (that's for amateurs!), and sustaining myself with furtive bites of Lara bars. By the end of each day I would be a glazy-eyed dehydrated spazz. YAY! Man, I love this show.
The above lovelies are from a Holidome vendor. That is a vast and confusing venue with 5-ish ginormous football field-sized tents filled to overstuffed with largely gem beads and costume jewelry, though there were some good loose stone vendors for sure. I'll make a post of what I DID actually buy soon. (Spoiler: I got one of those emeralds!)
Natural color Japanese Akoya pearl strands. I typically ignore Akoyas because I find the classic white "Mikimoto" style pearls a bit of a yawn, but these silvery blue-ish baroque guys were totally my speed. Please someone, give me a reason to call this guy up and order one of these strands!
Many more pics after the click:
Salt & Pepper double-sided rose-cut diamonds from Rough Diamond World! These were cool in that they had faceting on the underside of the rose, which helps break up the windowing they can sometimes show.
There were so many vats of glossy cabochon-cut gems in the most gorgeous hues. They looked like jelly candy and I wanted to eat them. Those are opals, aquamarines, and multi-colored tourmalines.
I've been pining after these Pariaba tourmalines for a couple of years now. They have an incomparable Caribbean Sea color and just an uncanny glow to them.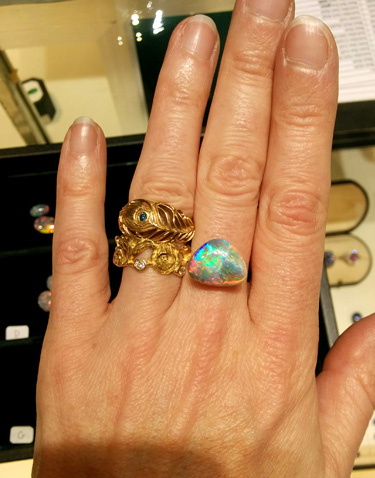 Finally met Matthew Hopkins from Hopkins Opal in person, and he showed me some flipping amazing black opal material from Lightning Ridge. His brother and father live there and do the mining & sourcing of material, and they do all the cutting themselves. They have some of the best opals I've ever seen. My phone camera does absolutely NO justice to these guys.
Crazy snake bone things!(?)
Dendritic opal! This is something new I've never seen (or noticed) before this gem show. Every show I see something totally new. Either because it's some new discovery just hitting the market, or old material that's having a little renaissance. These looked like a snowy landscape viewed through a fish-eye lens.
Another new stone I had never seen before: Hemimorphite. It has a similar look to it to chalcedony, but a deeper more solid saturated blue color. It looks exactly like blue toothpaste actually.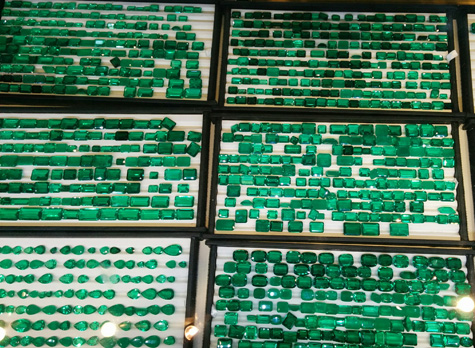 Emeralds! Emeralds! Emeralds! As far as the eye can see!!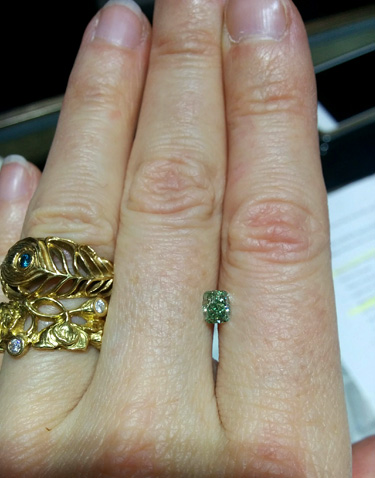 While waiting for my melee guy to come back so I could give him my order, I got to play (carefully!!) with this little zillion-dollar green-blue diamond. Seriously, this thing was one of the prettiest diamonds I've ever seen. He also had some amazing orange-yellow diamonds with insane saturation (natural). The color was one I've never seen before in a diamond.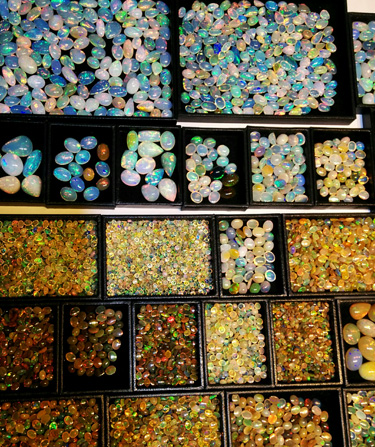 Ethiopian crystal opals. There were many.
Cool pinfire opal! Also Ethiopian.
Some of the biggest and prettiest silvery blue baroque South Sea pearls. You can't tell in the photo but these are 15-16mm width to 20mm+ length.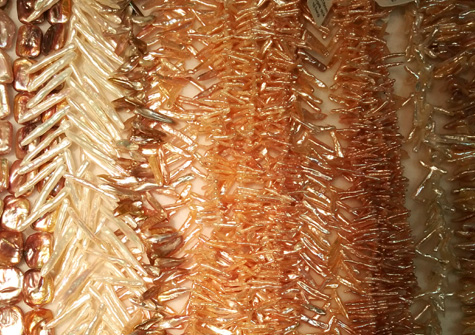 The natural colors pearls come in make me happy.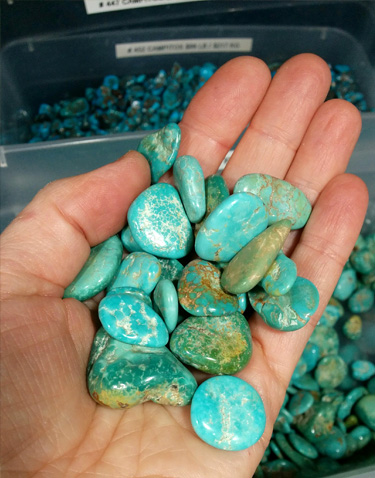 A handful of turquoise from Mexico. Yum!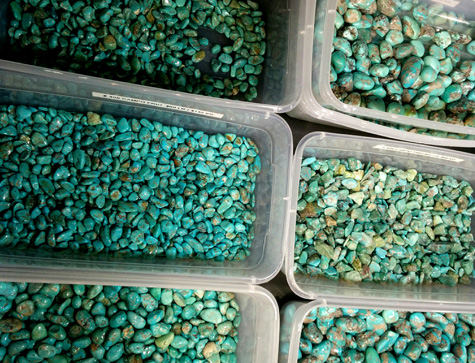 BINS of turquoise from Mexico! YUM!!!